TUFSHINE Tire Cleaner 24oz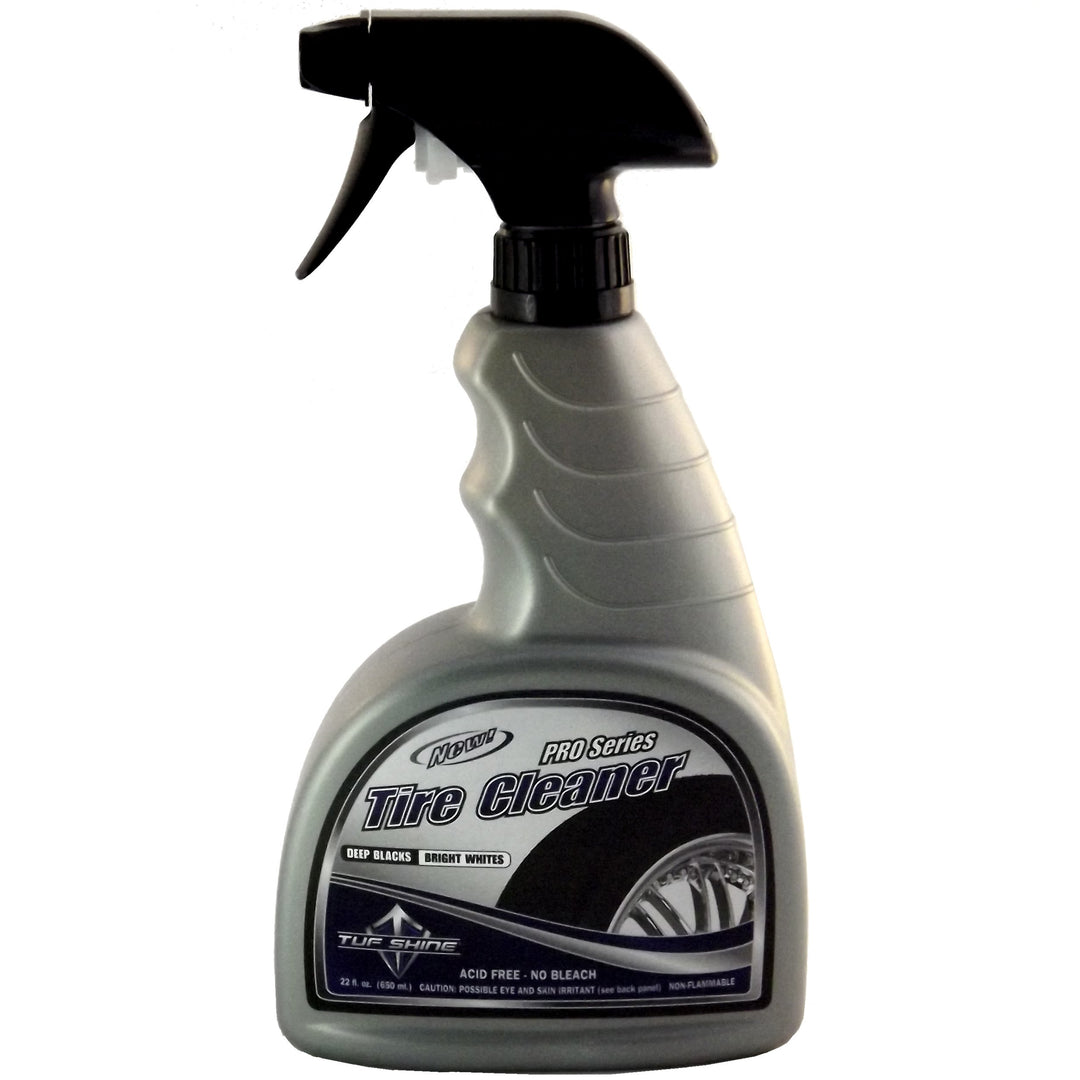 TUF SHINE specially formulated this heavy duty cleaner to thoroughly clean tires and rubber floor mats. It is rated as one of the best tire cleaners by professional detailers and car enthusiasts alike.

It is non-caustic and contains no acids. It is also biodegradable and safe for the environment. We spent 5 years developing a cleaner that will remove old silicone dressings and leave the tire properly cleaned so that our Tire Clearcoat will adhere and perform as promised.

TUF SHINE Tire Cleaner is safe for all wheels and paint when used as directed. Please read and follow instructions carefully. Preparation is the key to the success of the TUF SHINE Tire Clearcoat finish.
INSTRUCTIONS
PROPER PREPARATION IS THE KEY TO A LASTING FINISH!
DO NOT CLEAN TIRES IN DIRECT SUNLIGHT OR WHEN THE TIRES AND WHEELS ARE HOT.

Caution, cleaner may stain bare aluminum, test small area first.

1. Any dirt, residue, and especially silicone from previous tire dressings must be removed or they may cause flaking and browning of the TUF SHINE Tire Clearcoat finish.

2. Spray TUF SHINE Tire Cleaner on the first DRY tire and allow it to set for 60 seconds. Wet tire brush (not the tire) with hose and scrub tires especially around raised letters and grooves. Scrub in the direction of grooves, then 90 degrees to them. Rinse brush thoroughly after each scrubbing with direct stream of water from hose. Do one tire at a time.

3. REPEAT this process a second time, or as needed, UNTIL SUDS APPEAR WHITE. The white suds indicate the tire is clean. This ensures that the tires are properly prepared for the TUF SHINE Tire Clearcoat finish. Remember, the Tire Clearcoat will stick to rubber, but it will not stick to silicone. That's why this initial cleaning process is so important. Investing extra time cleaning will yield excellent results.

4. The tire should have a dull black look when properly cleaned. Get white lettering and whitewall as clean and white as you can before applying the clearcoat finish. The clearcoat will lock in the color.

5. Use this cleaner for initial cleaning only. Once the TUF SHINE Tire Clearcoat is applied clean tires with the same solution you wash your car with.