TUFSHINE Black Restore Kit 6oz w/ 1 app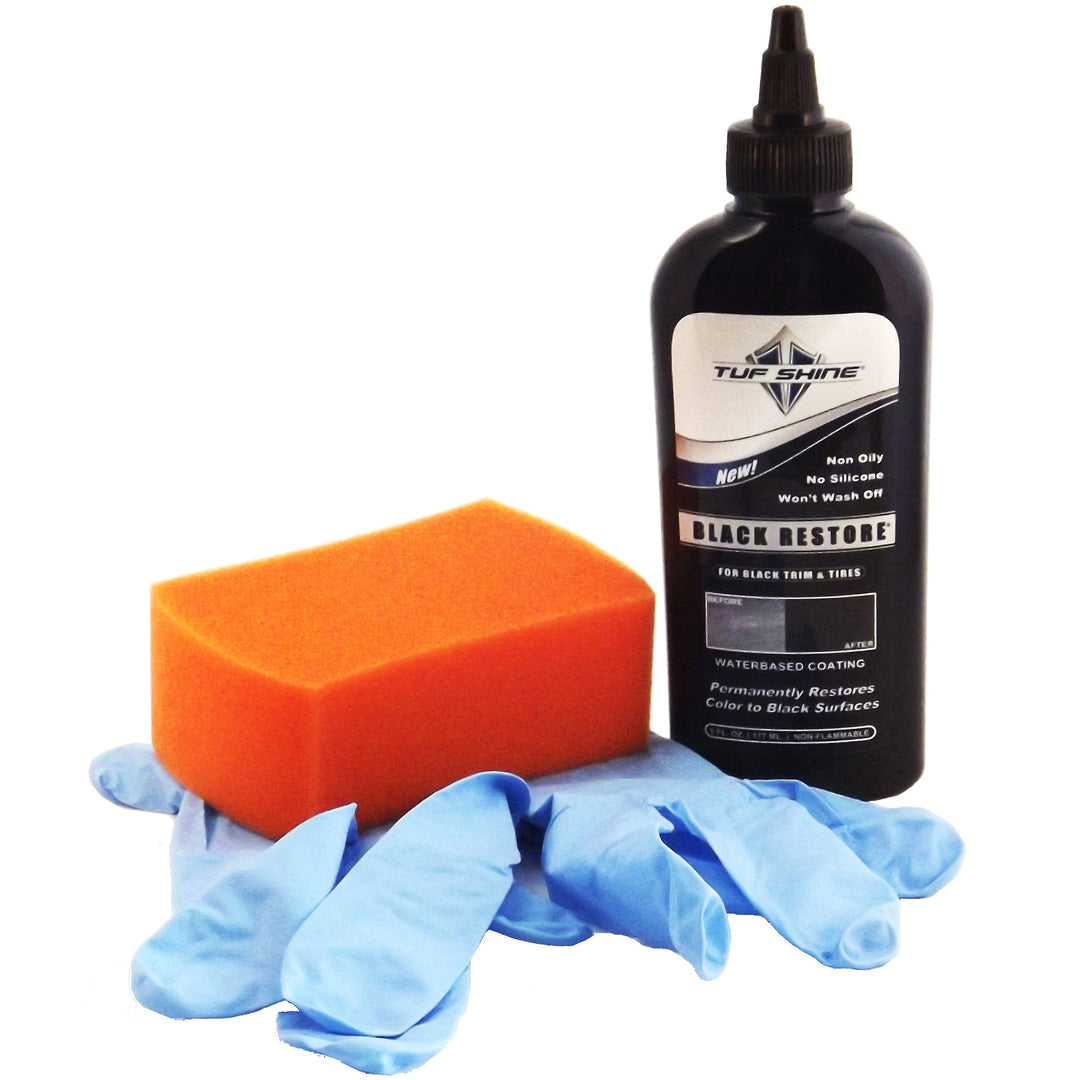 Faded to dark.
TUF SHINE Black Restore Kit is a unique product designed to restore faded and oxidized tires and black exterior trim. It will permanently revitalize older, weathered looking surfaces. Apply it with the sponge applicator (included) and watch those surfaces go from old to new with very little effort.

Unlike other products, it will not wash off, even when pressure washed. This water-based product will dry quickly and clean-up is a breeze. Prevents oxidation and cracking of sidewalls due to weathering.
TUF SHINE Black Restore Kit Features

Water based formula dries absolutely dry to the touch in minutes
Contains no oils or silicones
No harmful petroleum solvents
Withstands repeated pressure washings
Anti-static. Dust won't cling to surface
Revitalizes faded and oxidized tires, rubber floor mats, black plastic trim, vinyl tops, leather and most hard rubber and plastic surfaces
Coating lasts for months & months.
Water based for easy clean up.
Applying Black Restore

1. Wear gloves provided to protect skin against staining. Also protect the surface area under and around the tire/trim to avoid staining those areas.

2. Shake well. Apply to COOL, DRY surfaces only. DO NOT APPLY IN DIRECT SUNLIGHT, OR IN COLD TEMPERATURES BELOW 5O DEGREES F.

3. Open and press dispenser nozzle into sponge and dispense a small amount into the applicator sponge to prime the sponge.

4. Apply a smooth even coat. For tires, follow the circular pattern of the tire. Smooth out any runs. If any black residue is drawn onto wheels or paint, wipe off immediately with a damp towel. Allow the product to dry between coats. Liberal applications of 2nd and 3rd coats may be needed. Draw out any runs. Dried on product can be removed with rubbing alcohol on a soft slightly damp cloth.

5. When done applying Black Restore, rinse applicator sponge thoroughly with water for future use.

6. We recommend that you top coat over Black Restore with 1 or more coats of TUF SHINE Tire Clearcoat for additional shine and protection.