The Last Coat 2.0 128oz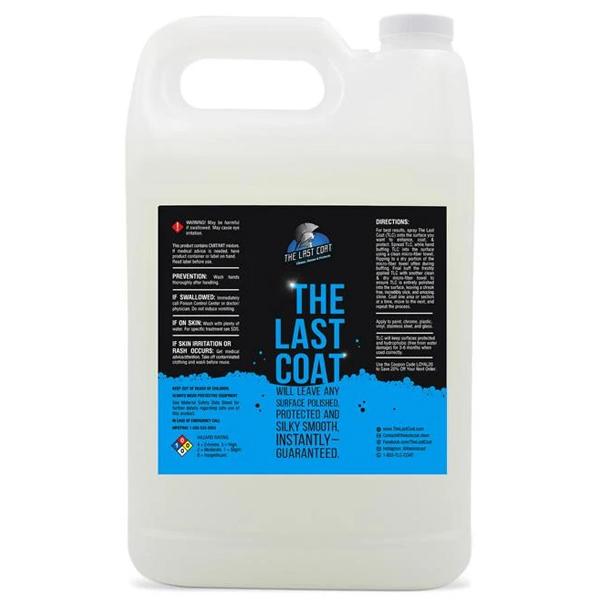 What's the Science Behind TLC2 That Makes it So Different?
The science behind our upgraded version of The Last Coat is very unique in the industry. There are lots of durable products, but the challenge was finding the formula that allowed the same versatility and ease of use as our original formula, but with much stronger durability and hardness.
We've taken the best properties of true ceramic coating products along with our original formulation, and combined them into a microemulsion formula.
All this means is that the "mesh knitting" of the formula is so tight that once bonded and fully cured, it makes it much more difficult for chemicals and road debris to get in and "uproot" the coating.
It has a mild positive charge which means it adheres to all surfaces including bare metal surfaces. It is more likely to repel dust than before. You also benefit from a lowered surface tension to bead water (so tighter beads and less chance for serious baked in water spots).
And What This Means for YOU...
At the end of the day, what this means for you is less is needed, less residue, more durability, and more ease of use than ever before.
So if you want to detail your car so it's 100% Money-Back guaranteed to be shiny, smooth and spotless on the 
first
 application… 
without
 having to spend hours on end sweating out in the sun… and 
without
 having to worry about how one week later, the car looks like it hasn't even been washed in weeks… then our latest formulation of The Last Coat is going to make you very pleased, to say the least:
The Most Versatile & Durable "All In One" Easy to Use, DIY Coating Available Today
Goes on Easy, and Wipes Off Even 
Easier, 
No Matter the Age or Shape You're In.
Easiest Coating You'll Ever Use - Guaranteed.


Protection and Coating Last Up to 
6 Months
!
Extremely
 hydrophobic and UV protectant
Smooth, 
Glass-Like
 Feel in Seconds Even on 
First
 Application.
Gives Surfaces a 
Deep
 and Glossy Appearance.
Leaves No Streaking, and No Residue.
Keeps Surfaces Cleaner 
Longer
 - Makes Future Cleanings a Breeze
Protects
 your vehicle from water, dirt, salt, UV rays, and more.
Bonds and Sets within 7 Minutes, No Long Curing Times Needed. 
(for maximum durability against crazy chemical testing, give it 24 hours)
.
Can Be Layered within 10 Minutes for Enhanced Protection and Depth of Shine.
An Average Sized Car Takes Only 1-2 Ounces for Full Coverage!
Works on paint, chrome, glass, plastics, leather, vinyl, stainless steel, and more!