Poorboy's World Super Hydrophobic Coating 30ml Kit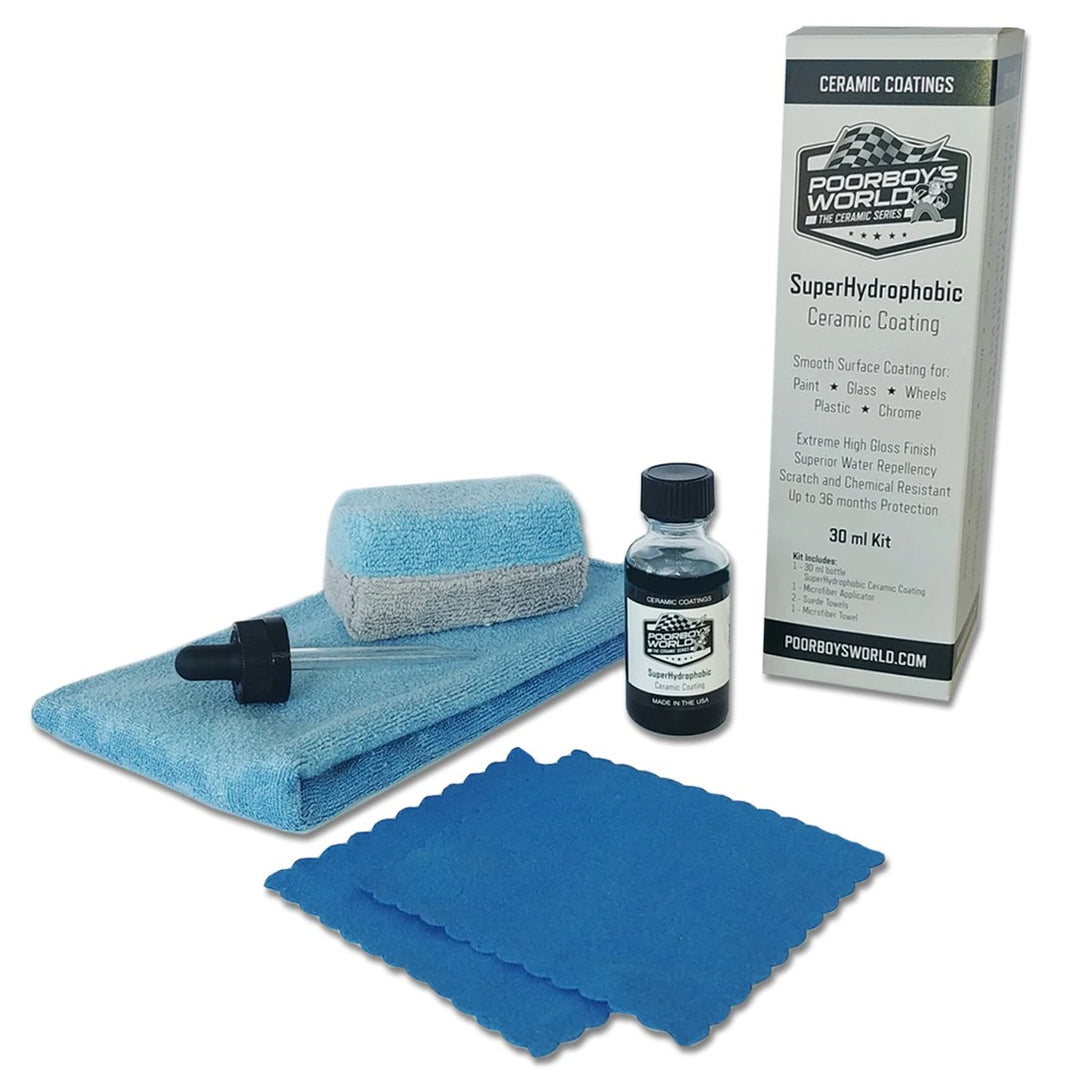 Poorboy's SuperHydrophobic Ceramic Coating is an easy to apply nano ceramic coating for smooth surfaces that include clearcoat, glass, plastic and chrome. This state- of-the-art formula features SIO2 nano-particles suspended in a rugged, yet flexible thermoplastic resin that bonds to the surface to form a resilient ceramic layer. Just as the name implies, SuperHydrophobic Ceramic Coating provides superior water repellency with high contact angle water beading. Surfaces coated with SuperHydrophobic Ceramic Coating are scratch, wear and chemical resistant with protection that lasts up to 3 years. With an extreme high gloss finish, superior protection and easy to use application, Poorboy's World SuperHydrophobic Ceramic Coating bridges the gap between consumer and professional ceramic coatings.
Poorboy's World SuperHydrophobic Ceramic Coating Kit Includes:
1 - 30 ml bottle SuperHydrophobic Ceramic Coating
1 - Microfiber Applicator
2 - Suede Microfiber Towels
1 - Microfiber Towel
DIRECTIONS:
Ensure that surface is clean, dry, smooth and free of contaminants before application. If surface has bonded contaminants, use a detailing clay bar or clay mitt along with clay lubricant to remove. Removal of swirls and scratches is also recommended prior to application of SuperHydrophobic Ceramic Coating. Wipe surface with Poorboy's World Surface Prep Spray to remove any residual polishing oils or traces of surfactants.
Shake well before use.
Wrap suede towel around applicator block and apply a few drops of Ceramic Coating onto the towel
Focus on a 3' x 3'section, apply coating to the surface in straight lines with overlapping passes.
First side to side, then front to back. Glide a second, dry suede towel along the finish to ensure a level surface.
Gently buff the surface with soft microfiber towel, carefully inspect the finish and enjoy the results before moving to the next section. Second layer may be applied after 20 minutes.
Avoid exposure to moisture for 12 hours and allow 48 hours before washing.
Maintain the finish with regular washing and detail spray to remove water spots, increase surface gloss and reduce the sliding angle for maximum water repellency. Avoid tunnel car washes that use brushes.
COVERAGE AREA: 
One 30ml kit is usually enough for applying SuperHydrophobic Ceramic Coating to the paint on most average size vehicles, with enough left for an additional layer of coating on the front portion of the vehicle and the hood. When skillfully applied, some professionals may be able to get even more coverage by avoided overapplication.
For larger vehicles, or if you would like to apply the coating to the paint and to the wheels, glass and smooth plastic, 60 ml (two kits) is recommended.
Please note that coverage area is entirely dependent on user applying correctly and not applying too much product to the applicator, resulting in wasted product. Remember, less is more effective when applying coatings. 
DURABILITY:
When applied to a clean, smooth surface that is free of contaminates AND the surface is maintained well with gentle washing, user can expect UP TO 36 months of protection from the elements. Numerous factors come into play and it is UP TO you to prep the surface, apply correctly and maintain the coated finish. Environmental factors will also determine the length of protection so the exact length of time may vary from vehicle to vehicle. Inspecting the finish on a regular basis and regular washing and quick detailing will help ensure the best results.
WHAT HAPPENS AFTER 36 MONTHS?:
Follow the directions from the beginning to ensure the coating is clean, smooth and free of contaminants and reapply. Please note that SuperHydrophobic coating does not need to be removed  prior to adding additional layers. Vehicles that are outside 24/7 should be decontaminated and inspected more often.