P21S 100% Carnauba Paste Wax 6.2oz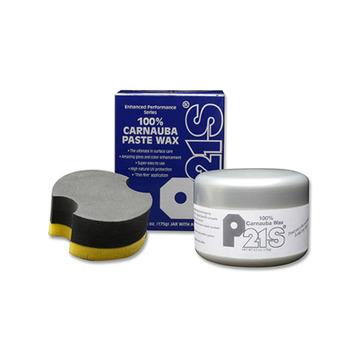 P21S 100% Carnauba Paste Wax 6.2oz
P21S BREAKS THE CARNAUBA BARRIER WITH 100% CARNAUBA PASTE WAX!
How much carnauba would you like in your paste wax? 40%…50%…60%? At P21S, we always seek the ultimate result. The challenge was to overcome the tendency of high carnauba content waxes to be difficult to remove. And we did it! The result is a wax that provides the incredible hardness, gloss enhancement, and protection of number one grade carnauba without the drudgery. In fact, it is as easy to use as any wax you have ever worked with! Fully compatible with the new scratch resistant clear coats and does not stain most rubber and plastics. 175 gram (6.2 oz) jar with unique anti-fatigue applicator. Part No. 12701W
WHAT YOU GET WITH OUR P21S 100% CARNAUBA PASTE WAX:
Genuine No. 1 Grade Carnauba, used exclusively as a wax ingredient. No other raw wax types used in this formulation! The right wax for car owners who seek the highest quality wax available.
Extremely high total wax content
Absolutely abrasive free and designed for modern water-based, ceramic, and nano technology paint systems.
Will not stain most rubber and plastics
Does not powder when buffed out
Contains no perfumes or dyes
Offers the kind of longevity, detergent, weather, and scuff resistance only a pure carnauba wax system can offer.
New "thin film" application system enables a small amount of wax to go a long way.
Unique ergonomic applicator that reduces the workload of waxing multiple vehicles.