Optimum Opti-Clean 128oz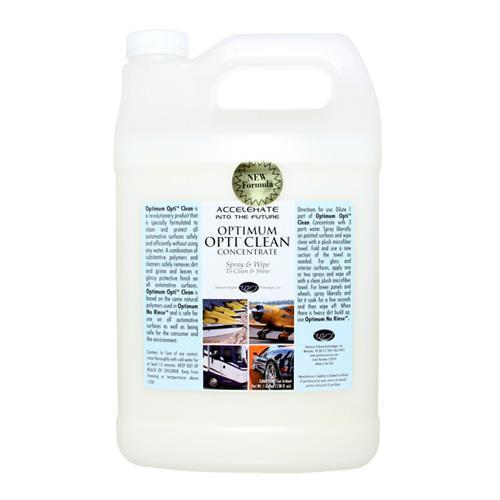 Optimum Opti-Clean
Opti-Clean is a revolutionary product that is specially formulated to clean and protect all automotive surfaces safely and efficiently without using any water. A combination of substantive polymers and cleaners safely removes dirt and grime and leaves a glossy protective finish on all automotive surfaces. Optimum Opti-Clean is based on the same natural polymers used in Optimum No Rinse and is safe for use on all automotive surfaces, as well as being safe for the consumer and the environment.
Directions:
1. Spray Optimum Opti-Clean liberally on one panel at a time.
2. Fold Optimum Drying Towel into eight sections and wipe clean till the panel is completely clean and free of dirt and grime.
3. Fold Optimum Drying Towel to expose a new clean section and repeat step 2.
When diluting the concentrate, use Di-ionized or Reverse Osmosis water for best results. Dilute one part concentrate with 3 parts water.