NV Guardian 125ml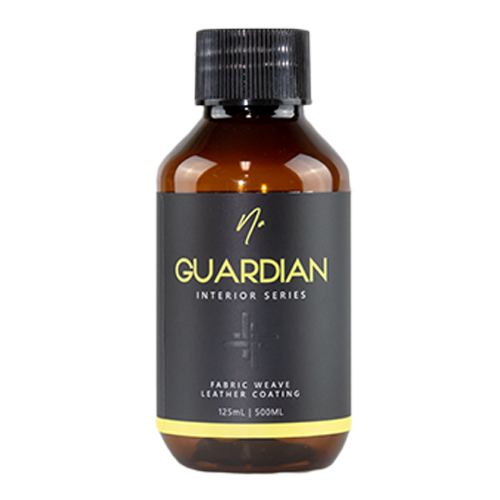 A WATER-BASED LEATHER COATING THAT WORKS ON ALL LEATHER SYSTEMS & PREVENTS CRACKING, UV DAMAGE, DYE TRANSFER, AND STAINS - ALL WHILE GIVING YOUR LEATHER A DARKER, ELEGANT LOOK. 
Guardian is a unique leather coating, due to the fact that it is water-based and aims to not only protect all types of leather systems but keep everything hydrated and in prime condition. It works on pigmented & non-pigmented leather and helps protect the leather from jean/dye transfer, whilst also preventing creasing/cracking due to superior UV protection. 
Guardian also adds a fantastic darkening effect on the leather, giving the leather a new look without the appearance of "glossing". The finish created is smooth, and not greasy to the touch.
We have devoted a lot of time & research into developing a leather care system that works on almost all automotive leather. 99% of the time you are not sitting on the actual hide of the leather, you are sitting on pigmented leather that has been coated to allow the leather to be more durable and to help it to retain the leather's natural oils. So you are not trying to clean, condition or protect your leather, you are actually trying to preserve the top coated finish of the leather.

So it's coated, I don't have to do anything right?
Not exactly, for the coating to function properly it needs to remain hydrated. This new range of products will help safely clean the coating and help hydrate them in the process to help stop creasing & cracking. They provide a new level of protection where the pigmented finish falls short of.

Our coating helps protect the leather from light abrasion, dye transfers from clothes & other possible stains. it also slightly darkens the leather, giving the leather a new & enhanced look, while not making the surface look greasy.
All of this can sound a little overwhelming, but the products are simple, easy to use and produce unbelievable results. 
Instructions:
1. Ensure the leather is clean and completely dry.
2. Apply Guardian onto a microfiber applicator pad
3. Wipe into the surface.
4. Wipe off after 20 minutes.
5. Let completely dry for 2 hours before driving.