Collinite No. ss126 Super Sapphire Liquid Cleaner Wax 16oz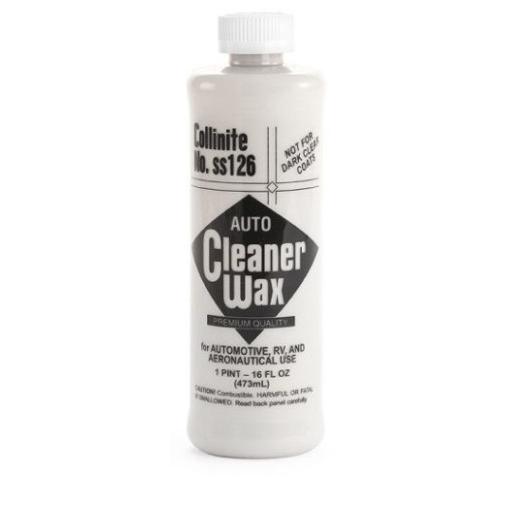 Collinite No. ss126 Super Sapphire Liquid Cleaner Wax 16oz
Dual function auto polish removes weathered contaminants as it shines and protects
Cleans, beautifies and protects in one step
Saves time and money with large, fleet applications
Versatile and easy to use
Not recommended for dark clear coat finishes
Removes brake dust, dirt, film, light oxidation/discoloration, oil, water spots, grease, bugs, stains, etc. from exterior auto surfaces while leaving behind a radiant finish and protective coating that guards against future surface corrosion-UV, road salt, brake dust, rain, snow, bugs and birds. Recommended for all lacquered, enameled, and varnished finishes and light clear coat; white, silver etc. Not recommended for dark clear-coat paints.Handcrafted and hand-poured in the USA.
Shake well before using. Surface should feel lukewarm to the touch. Apply THIN amount of No. ss126 to section no larger than 2X2 ft at a time with applicator pad. Rub well to loosen all tarnish, oxidation etc. Reapply as necessary until surface is free of embedded contaminants. When product begins to dry, polish off with dry microfiber or soft cotton towel. For added protection/durability on clean surfaces, follow up with one of Collinite's last step waxes (845, 476s, 915)). See TECH SHEET for additional tips and instructions.
Soiled single stage or lacquered paints as well as light colored clear coat; silver, white.
Exterior automotive, RV, and aeronautical finishes
Tarnished chrome, stainless steel, aluminum, brass, and copper (uncoated)
NOT recommended for coated / painted metals, dark clear coat paint, or contaminant-free/clean finishes.