Collinite No. 855 Leather and Vinyl Wax 16oz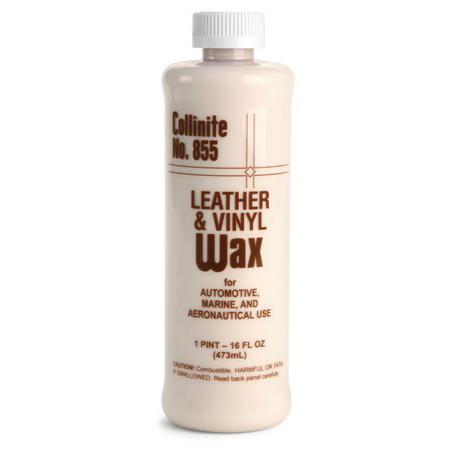 Collinite  No. 855 Leather and Vinyl Wax 16oz
Premium single step treatment gently cleans, moisturizes, and protects a variety of leather and vinyl surfaces.
Penetrates to deep feed, coat and preserve
Helps prevent fading, drying, cracking, staining and premature aging
Leaves a like-new matte finish
Far from your typical wipe on, wipe off dressing, No. 855 deep feeds to create and preserve that like-new, matte finish. Provides rich carnauba gloss while providing a protective coating of weather protection to guard against future wear, deterioration, drying/cracking, staining and spills. Handcrafted and hand-poured in the USA.
Shake well before using. Surface should feel lukewarm to the touch. Apply THIN and even amount of No. 855 to section no larger than 2X2 ft at a time with applicator pad. Rub well to loosen any film etc to ensure even coverage. Before product dries, polish off with dry microfiber or soft cotton towel. A well ventilated area is preferable for interior application. See TECH SHEET for additional tips and instructions.
For automotive, marine, RV and aircraft; seating, upholstery
NOT recommended for suede, fabric, buck, unsealed leather or exterior vinyl trim
Also works well on saddles, furniture, select sporting equipment