MTM Hydro KobraJet 100ft 4,000 PSI Black Hose 30.0051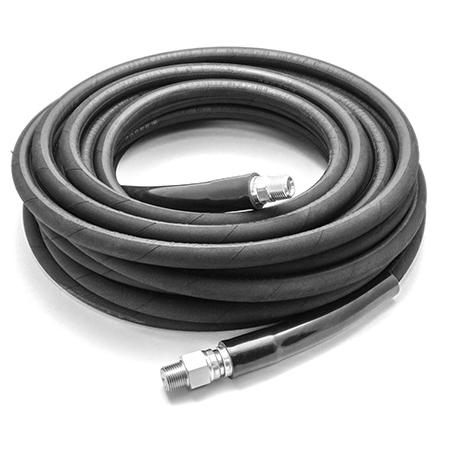 MTM Hydro's KobraJet Black Hose is available in various lengths to accommodate all cleaning scenarios. This black hose now features a thicker inner wall to prevent gashes and ruptures and is great for any pressure washing application. Kobrajet is manufactured out of high quality components and assembled in the U.S using 'Bite the Wire' technology when installing the 3/8" rigid and swivel fittings. This technique guarantees that your hose ends will stay in place and will not rupture or blow off during pressure spikes. These advanced fittings also have a longer life with superior resistance to corrosion due to the salt spray test which yielded results of 125 hours before corrosion was detected; nearly twice the industry standard, meaning your hose will last longer, especially in abusive environments.
Kobrajet hose can handle temp spikes up to 310°F but constant run temperatures should not exceed 275°F
3/8" Male NPT Rigid End X 3/8" Male NPT Swivel End
Upgraded Hoses are available in stock sizes but if you are looking for a non-stock upgraded hose, add a hose upgrade part# to this order. Simply add 24.0186 (Brass Coupler and Plated Plug) or 24.0189 (Stainless Coupler and Plug) in the same quantity as your hose.
24.0186 = 24.0069 & 24.0075
Use 24.0081, 24.0069 for ends.
15mm outer diameter, inner diameter of the hose is 3/8".