Mckee's 37 Max's RV Heavy Cut Oxidation Remover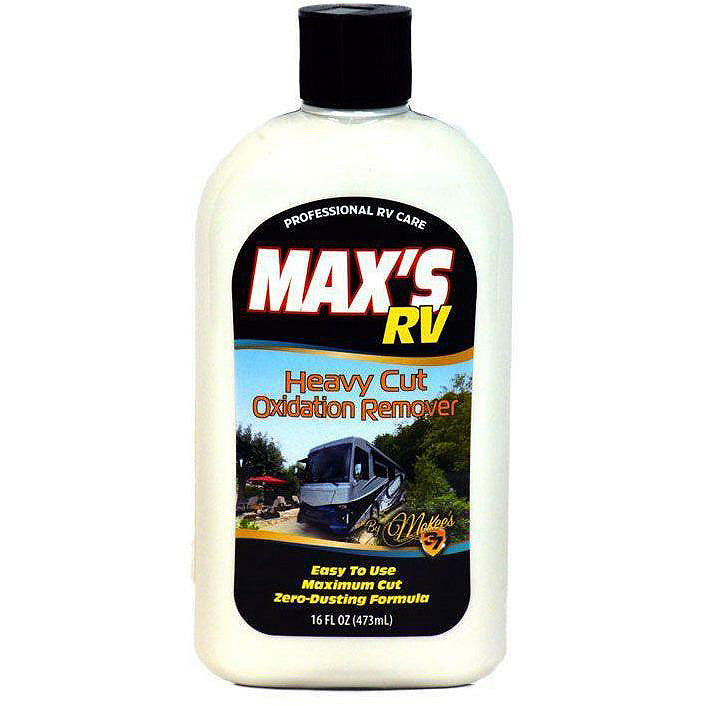 Mckee's 37 Max's RV Heavy Cut Oxidation Remover
Get rid of tough oxidation and staining with less effort!
Max's RV Heavy Cut Oxidation Remover is a heavy-cut compound designed to eliminate tough oxidation, scratches, and staining on your RV. This unique formula features a select blend of diminishing abrasives combined with nourishing lubricants to offer the best results possible. Max's RV Heavy Cut Oxidation Remover is highly versatile making it an ideal addition to your detailing arsenal.

Features:

Easy to Use
Maximum Cut
Zero-dusting formula
Removes heavy oxidation and staining
Use on gel coat and fiberglass
Long buffing cycle and easy wipe off
Apply with dual action or rotary polisher
Gelcoat can be a bear to work with! In the past, the only options for removing tough oxidation and stains were super heavy duty mega grit compounds that often left you with more damage than you started with. That's not the case today! Max's RV Heavy Cut Oxidation Remover uses the most advance diminishing abrasives available coupled with nourishing polishing oils to provide better results than its predecessors could ever dream of.
Max's RV Heavy Cut Oxidation Remover is the first step in correcting your gelcoat or fiberglass finish so that it can shine like new. Apply it with a machine polisher for best results. The diminishing abrasives remove gloss hindering oxidation while the lubricating oils ensure ample working time and easy wipe off.
Directions:
Shake well.
Apply an X of polish directly onto heavy cutting foam or wool pad.
Spread polish over a 2' x 2' area with the machine turned OFF. For a rotary polisher, set speed between 1200 and 1500 RPM. For a dual action polisher, set speed between 5000 and 6000 OPM.
Using a slow arm movement with heavy downward pressure, perform 4-5 section passes, or until the polish turns clear.
Buff to a high gloss using a clean, soft microfiber or terrycloth towel.
Follow with Max's RV One-Step Ceramic Polish & Sealant to further refine and protect surface.