Marine 31 Mildew Remover 32oz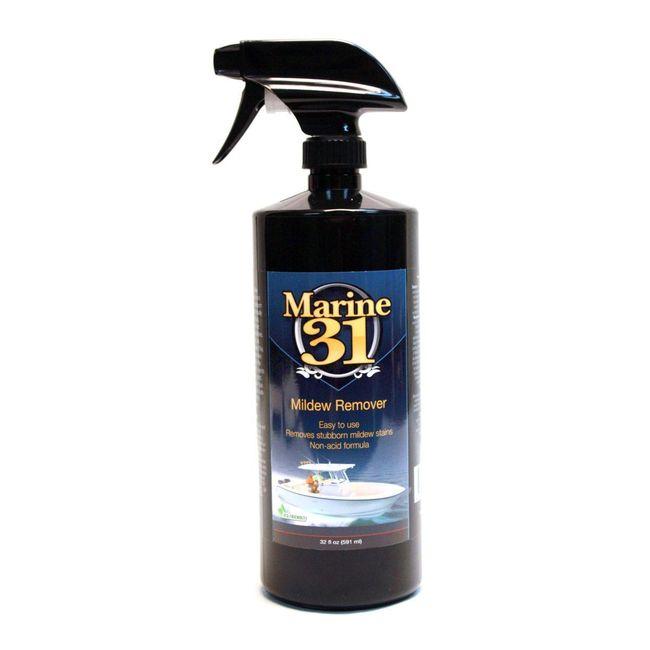 Marine 31 Mildew Remover 32oz
Marine 31 Mildew Remover quickly and safely removes stubborn mildew stains on virtually all marine surfaces, including vinyl seat cushions, rubber fenders, fiberglass, gel coat, canopies, and more! Marine 31 Mildew Remover forgoes volatile cleaners and instead relies on smart chemistry; even severe mildew growth is no match for the incredible cleaning power of Marine 31 Mildew Remover.

If you're a boater, chances are you've dealt with stubborn mildew stains on vinyl cushions. If you're reading this product description, chances are you've been less than satisfied with the performance of other so-called marine mildew cleaners. Fortunately for you, we've compared Marine 31 Mildew Remover against other marine mildew cleaners and have found that it removes mildew stains faster, with less effort.
Not all marine mildew removes are created equal! Most over-the-counter marine mildew cleaners rely on heavy concentrations of bleach and other volatile chemicals that actually cause more harm than good. Marine 31 Mildew Remover removes stubborn mildew stains without discoloring, dulling, or drying out vinyl surfaces. Best of all, it still retains the powerful cleaning ability to remove mildew stains – FAST!

Use Marine 31 Mildew Remover on:
Vinyl cushions and chairs

Rubber fenders

Fiberglass

Gel coat

Canopies

Boat tops
Marine 31 Mildew Remover works wonders for household cleaning as well! Use this professional strength formula to clean tile, grout, showers, bathtubs, counters, and sinks.

Directions:
Spray directly onto surface and allow 1-3 minutes for penetration.
If necessary, agitate surface with a brush or terrycloth towel.
For stubborn stains, allow cleaner to penetrate for 5 minutes before agitating.
Thoroughly rinse and dry surface.
Follow with Marine 31 Mildew Guard to protect treated surfaces.