Griots Garage G21 Long-Throw Orbital Polisher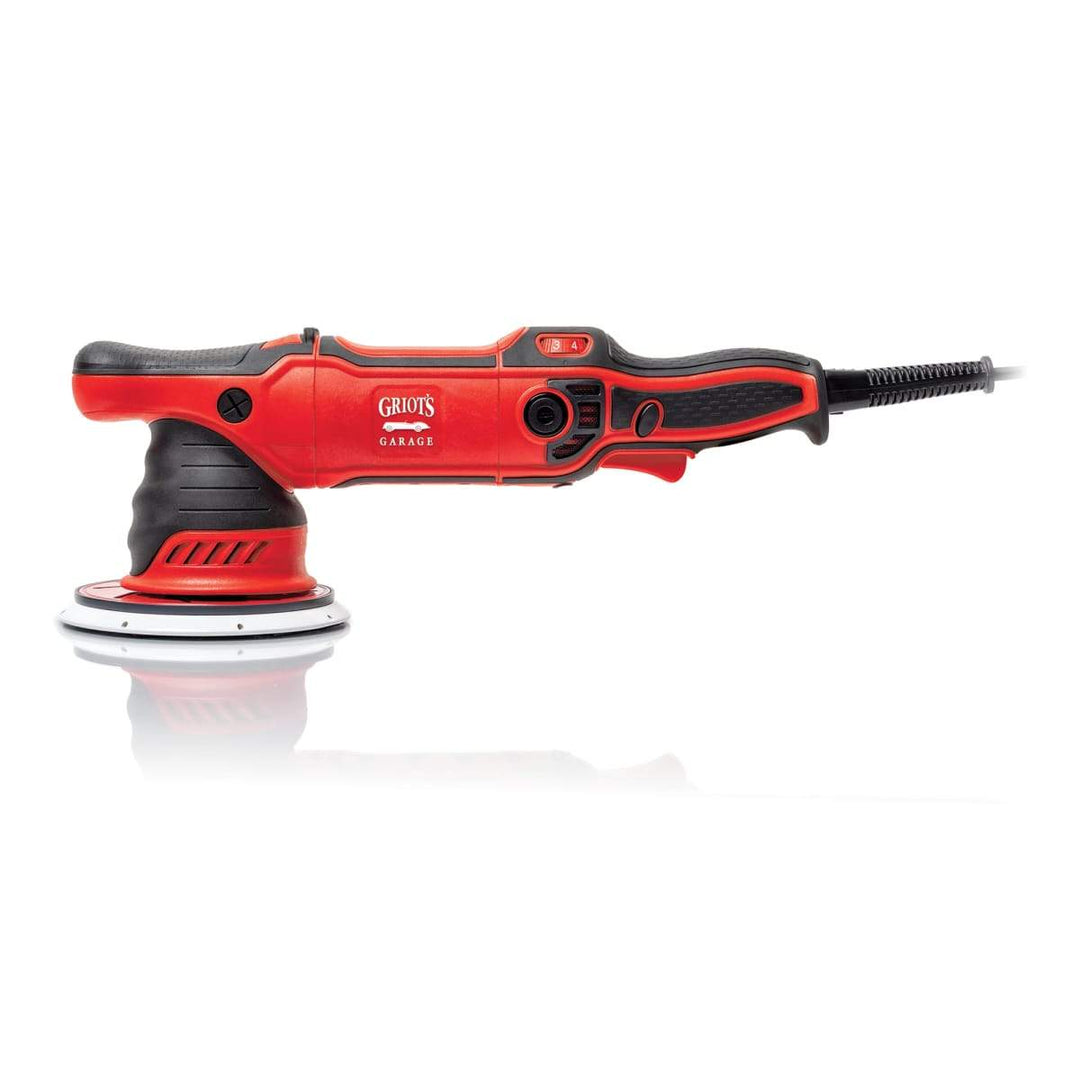 Griots Garage G21 Long-Throw Orbital Polisher
This ground-up redesign takes the best of THE BOSS™ long-throw orbitals and incorporates many of the technical innovations of the G9. The project continues the collaboration with our new manufacturing partner with all components being exclusively designed to our specifications.
For G21, we've taken the shape of the G9 and extended the body housing by 20% to accommodate a 'big block' 1,100-watt motor. This represents a 22% increase in power versus the previous tool. In the G21, the motor delivers a speed range of 3,000 to 4,500 orbits per minute.
Among the more innovative features of this tool is its cooling strategy. Due to its long-throw articulation, the G21 could not integrate fan cooling in its counterbalance like the G9. So we engineered the G21 with its cooling fan integrated into the backing plate. This new backing plate technology was developed exclusively for these machines and is undeniably best in class.
Balancing the combined weight of a backing plate, buffing pad, and the liquid on the pad translates into less vibration and a smoother running machine. For instance, microfiber pads generally weigh nearly twice as much as a foam pad so fine tuning is beneficial. Our innovative Weight Optimization System consists of three uniquely engineered fasteners, each weight-matched to a Griot's Garage pad type to ensure you'll enjoy best in class performance from these machines.
It should be noted that long-throw polishers are not ideally suited for application of waxes and sealants. Their large throw tends to cure the wax unevenly with the exception of our BOSS™ Finishing Sealant whose formula is designed to comply with the heat cycling of long-throw orbits. The G8 or G9 are our most suitable tools for wax application. Also, the G21, when converted to a 5" backing plate and fitted with a BOSS Microfiber Fast Cutting Pad is our most aggressive paint correcting combination.
Powerful 1100-watt, 10-amp motor
21mm orbit throw
Precision CNC-machined steel counter-balance
Premium bearing construction
Fitted with BOSS 6" Fanned Orbital Backing Plate
3000 - 4500 orbits per minute
10-foot quick-connect 16 AWG SJO rubber power cord
6 speed settings
Speed dial accessible for right- and left-hand users
Constant speed control
Fully variable speed trigger throttle with trigger lock
Double-shot rubber platypus head-grip, and strategically placed all over tool
Shroud grip contoured to accommodate four fingers
Rest pads for tool to lay stable on its back
Quick access brush side ports
Includes 5mm hex key wrench, and replacement high-carbon brushes
Convertible to a 5" pad system with optional BOSS 5" Fanned Orbital Backing Plate