Nanoskin GLIDE Instant Detail Spray Lubricant 16oz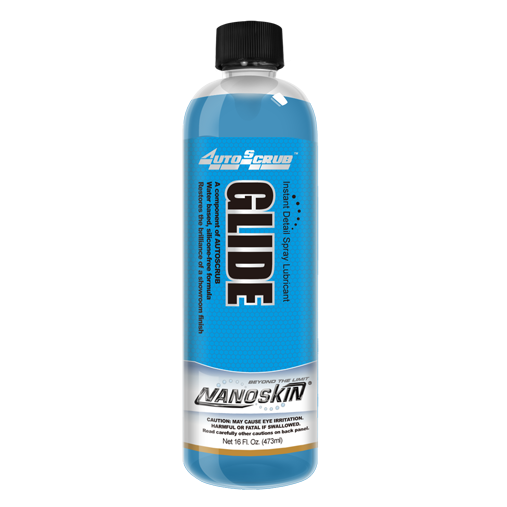 Nanoskin GLIDE Instant Detail Spray Lubricant 16oz
• A component of AUTOSCRUB
• Water-based, silicone free formula
• Restores the brilliance of showroom finish
• Also be used on glass, chrome and plastic
• Enhances reflections on shiny materials
As a component of AUTOSCRUB, NANOSKIN GLIDE lubricates the paint so well while gliding the AUTOSCRUB back and forth. GLIDE removes minor contaminants, dust, fingerprints, bugs, and more, restoring the brilliance of a showroom finish. It can also be used on glass, chrome, and plastic. The spray dries crystal clear on any surface and enhances reflections on shiny materials, like chrome wheels and trim. It's so easy and you can detail a full size car in less than 10 minutes.
DILUTIONS (for concentrated ver.)
AUTOSCRUB                                  7 : 1
Clay Lubricant                               10 : 1
Instant Detail Spray                        10 : 1
DIRECTIONS:
AUTOSCRUB-
Thoroughly wash vehicle free of dust, sand, and dirt.
Dilute GLIDE to desired strength.
Mist sufficient GLIDE onto the surface evenly.
Polish the surface with dual action orbital polisher using light pressure (Low Speed).
Wipe off residue and apply wax or glaze.
NOTE: Sufficient lubrication is crucial to the AUTOSCRUB application.
      Plain water is NOT an adequate lubricant.
Instant Detail Spray-
Shake well. Use only on clean, cool paint and out of direct sunlight.
Mist GLIDE onto one section at a time.
Quickly spread product with clean dry microfiber towel.
Turn to a dry portion of the towel, then wipe dry.