Ethos Detail Spray 16oz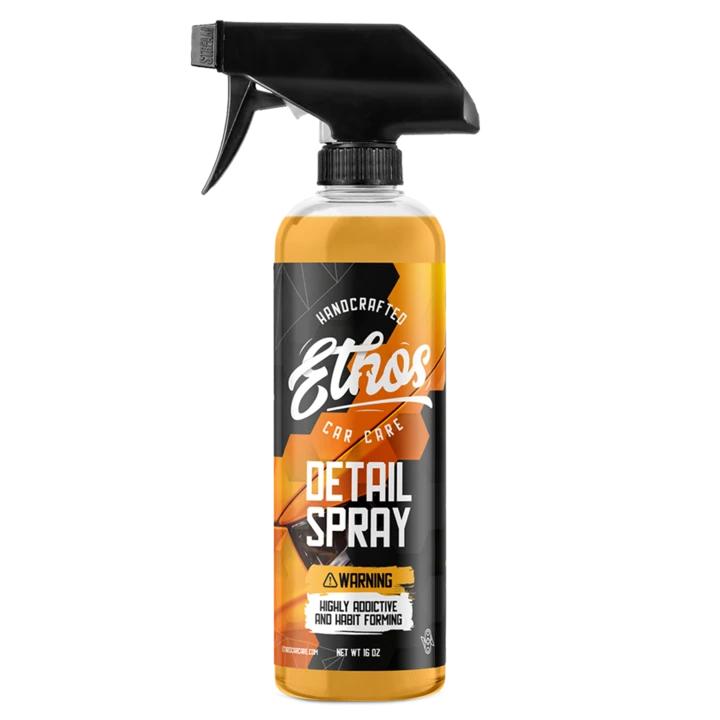 The Detailing Swiss Army Knife
Makes Any Surface Slick and Shiny
Streak-Free Finish Guaranteed
Mouth Watering Scent
DETAIL SPRAY
The One-size-fits-all solution for addicting gloss, shine and slickness. No other product does it better or more enjoyably than Ethos Detail Spray. Yes, it's THAT good or we'll give you your money back!
MAKE ANY SURFACE SHINE

Use it on your paint, glass, chrome, headlights, wheels, trim, on wet or dry surfaces, as a clay lube, as a drying aid, as a dust or fingerprint remover, before a car show or to add a quick pop of gloss after a wash. Ethos Detail Spray is sure to become a staple in your detailing regimen. Detail Spray helps boost protection on top of waxes or sealants and is safe for any ceramic coating.
INCREDIBLE GLOSS AND SHINE
Most store bought detail sprays are packed full with fillers and "hiders" that give the false shine that only last a few minutes. Spray over your existing ceramic coating and add to the shine and hydrophobics!
EASY APPLICATION AND USAGE
All of our products are pleasantly colored to please your eye and smell so good you'll want it in your house! Our products are consistent and will give a first time user the same result as a veteran detailer using our product!