Dr. Beasley's Microsuede Spot Remover 12oz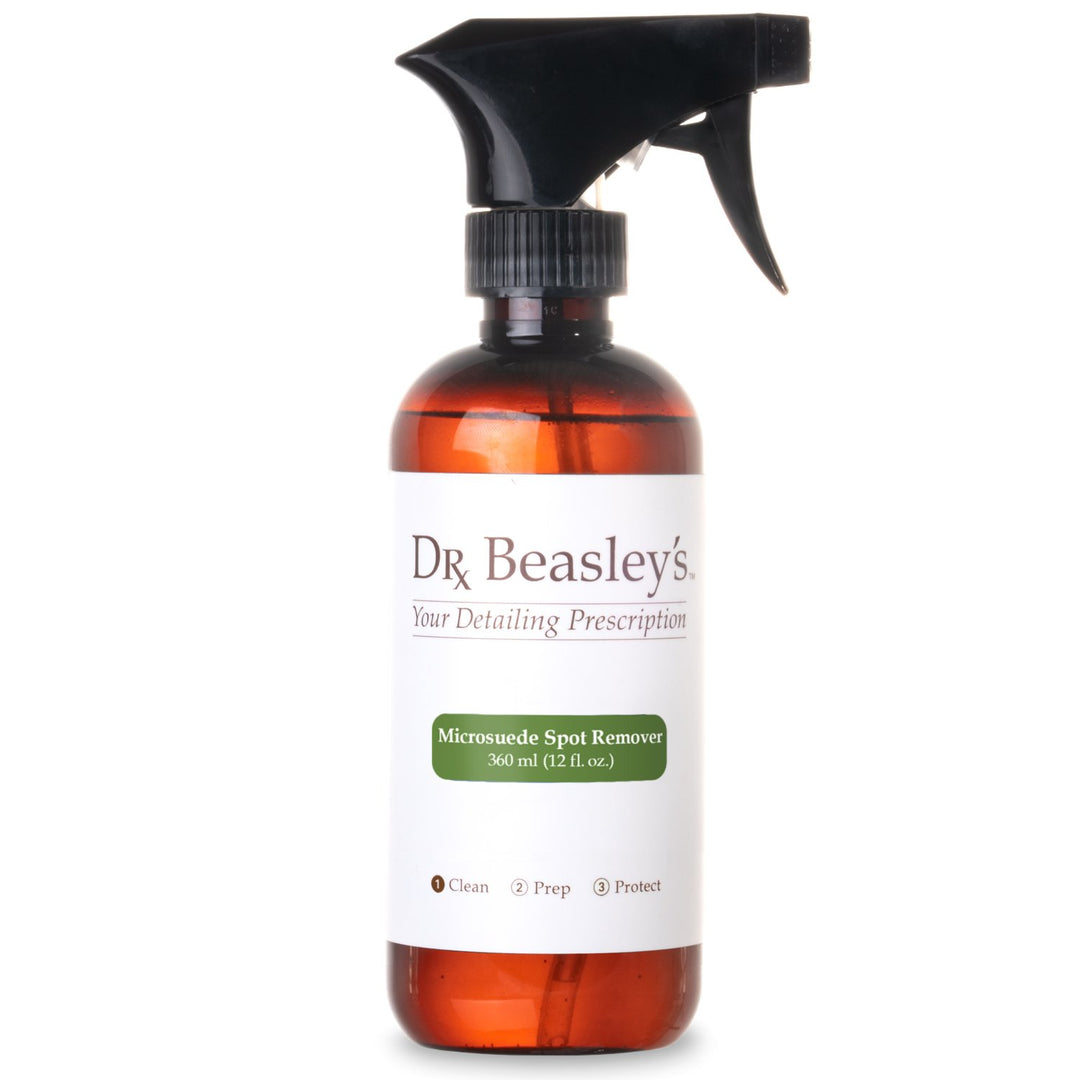 Dr. Beasley's Microsuede Spot Remover 12oz
MICROSUEDE SPOT REMOVER cleans inorganic messes like ink or dye from faux suedes like Alcantara, Dinamica and Ultrasuede. Specially formulated to maintain a soft texture and even appearance on microsuede fabrics.

CLEANS FAUX SUEDE Removes stains from Alcantara, Dinamica, Ultrasuede and other faux suedes

REMOVES INORGANIC CONTAMINANTS Cleans stains from ink, dye transfer and automotive grease to restore fabric

KEEPS LOOK AND FEEL Specially formulated to maintain softness and appearance

EASY TO USE Simply mist, wipe and let dry to remove stains


Cleans Any & All Faux Suedes

Whether it's Dinamica, Alcantara, Ultrasuede or another faux suede, Dr. Beasley's Microsuede Spot Remover will take care of any inorganic contaminants.

Gets Rid Of Tough Stains

Remove tough inorganic contamination from ink or dye transfer quick and easy with Microsuede Spot Remover.

Won't Harden or Darken Fabric

Unlike other suede cleaners, Microsuede Spot Remover maintains both a soft texture and even appearance on faux suede.

Great For Faux Suede Seats

When dye transfer from dark jeans stains a faux suede seat, only Microsuede Spot Remover will break down the inorganic dye for total removal.

Perfect In An Emergency

Keep a bottle of Microsuede Spot Remover in your glove box—you never know when you might need it!

Not Just For Cars

Microsuede Spot Remover works with any faux suede, from couches to shoes. Great to have on hand for accidents.

How Does It Work?

Microsuede Spot Remover lifts out and breaks down inorganic contamination so it can be easily removed. Its proprietary formulation restores the original appearance upon drying and won't alter the soft texture.

DIRECTIONS
Instructions

1. Mist onto the affected area. Do not oversaturate.
2. Gently wipe to remove contamination. The surface may appear slightly dark after application.
3. Let dry.
4. Repeat steps 1-3 as necessary for heavier soil.


Dr. Beasley's Suggests

Always test in a small area first for surface compatibility.
Do not re-apply to a wet surface.
For organic stains like body oil or food, try Microsuede Cleanser.