Dr. Beasley's Microsuede Protection 12oz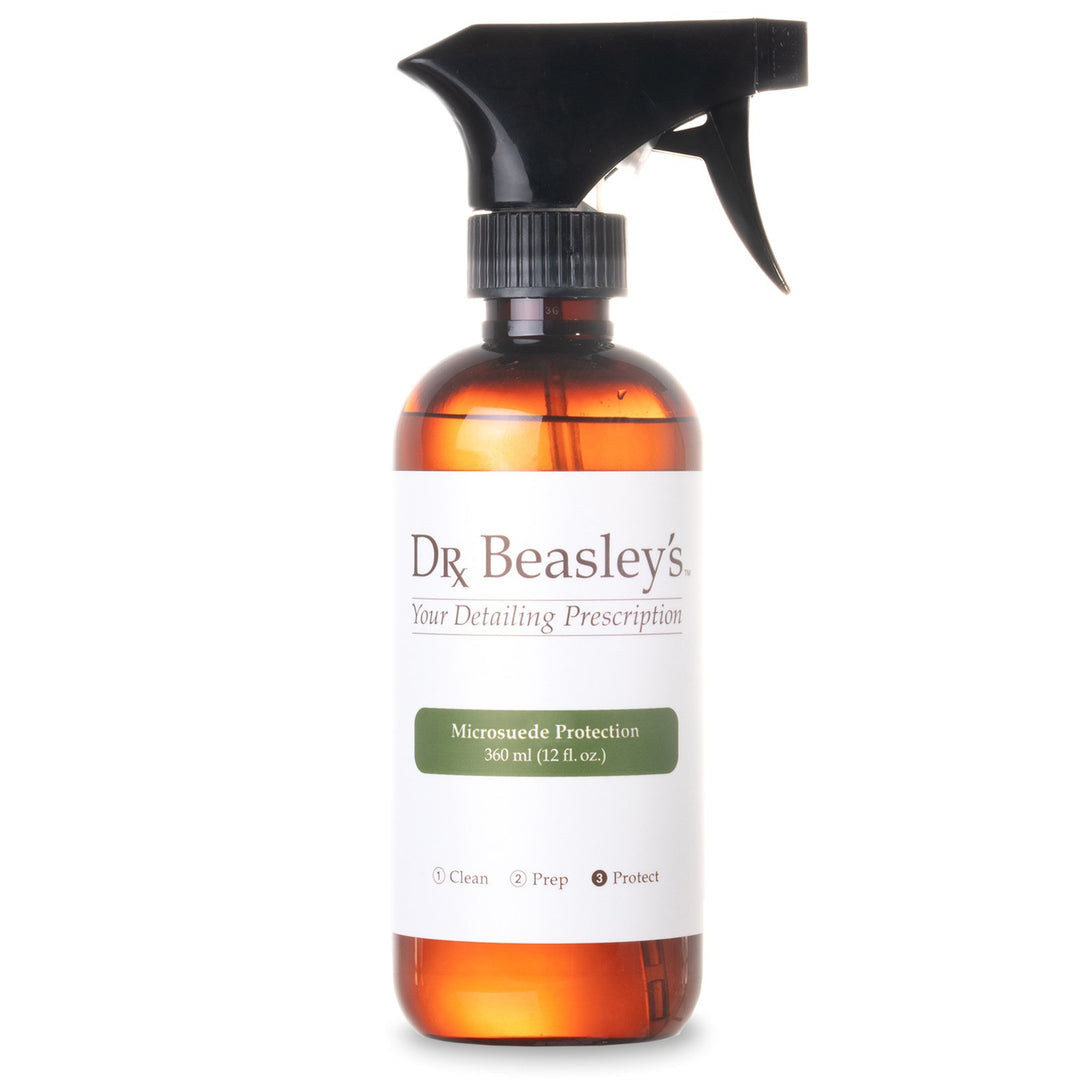 Dr. Beasley's Microsuede Protection 12oz
MICROSUEDE PROTECTION shields faux suedes like Alcantara, Dinamica and Ultrasuede from stains and soiling. Forming an invisible barrier over the surface, it repels water and contaminants to prevent stains from taking hold. Maintains soft texture and keeps an even finish.

PROTECTS FAUX SUEDES Invisible coating to shield Alcantara, Dinamica, Ultrasuede and other faux suedes

REPELS WATER & CONTAMINANTS Stops water and soil from seeping in to stop stains

KEEPS LOOK AND FEEL Specially formulated to maintain softness and appearance

MAKES CLEANING EASY Prevents soiling from sticking to ensure effortless contaminant removal


Protects All Faux Suedes

Microsuede Protection shields Dinamica, Alcantara, Ultrasuede and all other faux suedes.

Prevents Stains & Soiling

Repels sweat, body oils, dirt, grime, ink, food, drink and a wide variety of other contaminants to prevent permanent stains.

Won't Alter Texture or Appearance

Maintains the soft, luxurious texture of microsuede and does not alter its look in any way.

Reduces Difficulty of Cleaning

By resisting deeper stains, Microsuede Protection guarantees easier cleaning and maintenance.

Perfect For Steering Wheels & Shift Knobs

Microsuede Protection helps resist sweat & oil from your hands when handling faux suede steering wheels and shift knobs.

Not Just For Cars

Microsuede Protection will protect any faux suede, even those on couches and shoes. Take it from the car to the home!

How Does It Work?

Microsuede Protection crosslinks with faux suedes to form an invisible, breathable barrier that maintains suede texture. Once cured, the barrier exhibits hydrophobic properties that repel water and resist soiling.

DIRECTIONS
Application Instructions

1. Using an interior cleaning brush, push microsuede fibers in one direction.
2. Spray Microsuede Protection. Do not saturate the fabric.
3. Allow approximately 10 minutes for sprayed area to dry.
4. Again using the interior brush, push microsuede fibers in opposite direction.
5. Spray Microsuede Protection.
6. Allow microsuede 24-48 hours to dry undisturbed for optimal protection.

Dr. Beasley's Suggests

Do not allow this product to freeze.
Always test in an inconspicuous area first to check for surface compatibility.