Dr. Beasley's Matte Wheel Cleanser 12oz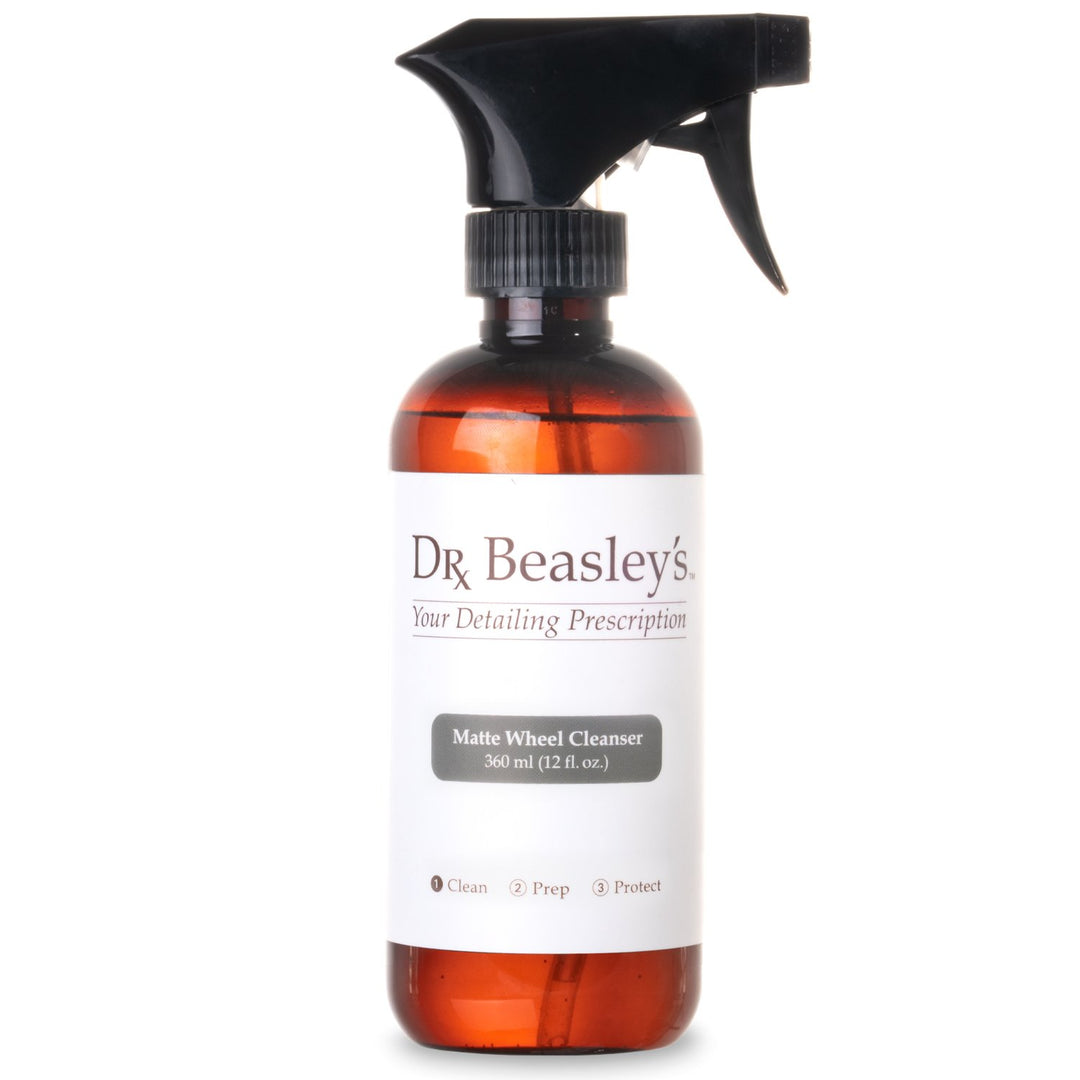 Dr. Beasley's Matte Wheel Cleanser 12oz
MATTE WHEEL CLEANSER removes brake dust and other road contaminants from matte and satin finished wheels. Formulated without fillers and residue-free, it maintains matte and satin finishes in their original appearance.
 CLEANS BRAKE DUST & ROAD GRIME Active ingredients cuts through brake dust and other day-to-day contamination
 MAINTAINS MATTE LOOK Made without fillers and leaves no residue to preserve matte finish in original condition
 HIGH-CLING FORMULA Clings to wheels for maximum contaminant removal and minimal run-off
 POWDER COAT COMPATIBLE Also works to clean powder coated matte wheels
Eliminates Brake Dust, Tar & Other Contaminants

Matte Wheel Cleanser makes even stubborn brake dust easy to remove. It's also great at eliminating tar, sap, mud and other common contaminants.

Maintains Matte & Satin Finishes

With no fillers, waxes or silicones, Matte Wheel Cleanser keeps matte & satin wheel finishes in their original appearance. It also won't leave white residue like so many other wheel cleaners.

Highly Effective Clinging Formula

Matte Wheel Cleanser is formulated to stick to wheels rather than running off, ensuring maximum contaminant removal and no wasted product.

Works With Powder Coated Matte & Satin Paint

Even on powder coated matte & satin wheels, Matte Wheel Cleanser is just as effective at breaking down and removing contaminants.

Actively Removes Contaminants For Easier Cleaning

Because it breaks down contamination on its own, Matte Wheel Cleanser requires less work to remove grime.

Easy To Use and Fast To Apply

Matte Wheel Cleanser goes on easy with a simple spray, sit, wipe and rinse application. It cleans wheels in just a matter of minutes.

How Does It Work?

Matte Wheel Cleanser breaks down contaminant bonds at the molecular level so they can be easily removed. Its high-cling formulation ensures it remains on the wheel and in maximum contact with the offending contaminants.
Application Instructions

1. Shake well.
2. Rinse wheel.
3. Spray directly onto wheel from bottom up.
4. Let sit for 3-5 minutes but do not let dry. Wipe clean with a microfiber towel.
5. Rinse wheels again and dry with a fresh microfiber towel.
6. Repeat steps 1-5 if necessary.