Colourlock Leather Fresh Dye Kit (Black)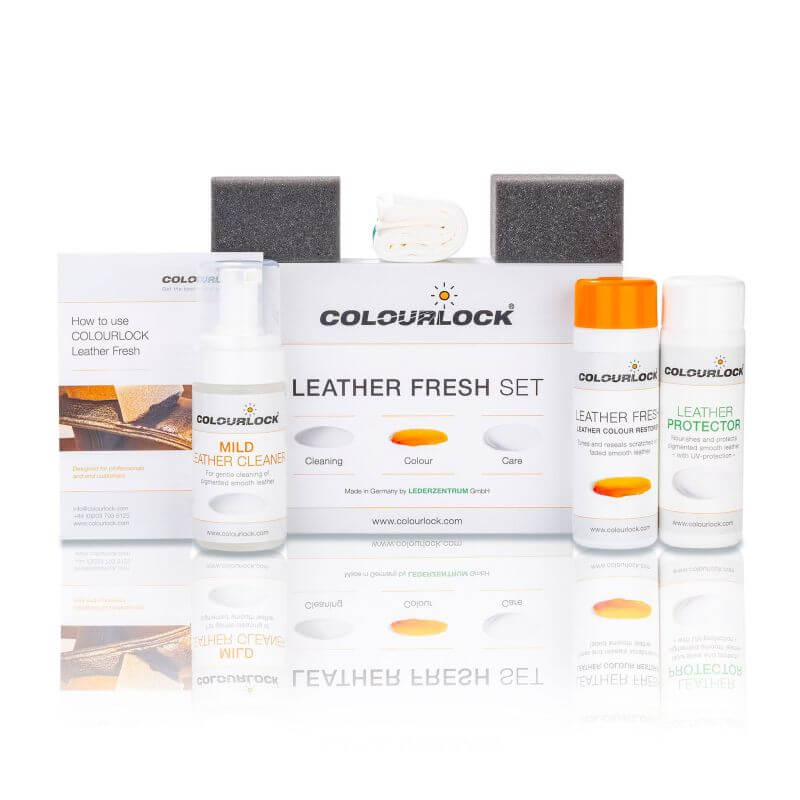 Leather Fresh Dye Kit F034 (Black)
This repair kit is ideal for repairing scratches, abrasions or slight fading on leather furniture or leather car seats.

Contents
1 x Leather Fresh Dye, 150 ml

1 x Leather Cleaner, 125 ml
1 x Leather Protector, 150 ml
1 x Sponge for cleaning

1 x Sponge for applying fresh dye

1 x Polishing Cloth

1 x Protective Glove
First, clean the leather thoroughly before refreshing the colour or the application of care products. Use COLOURLOCK Mild Leather Cleaner for normal degrees of soiling but, for more serious soiling, you will need COLOURLOCK Strong Leather Cleaner. Cleaning prior to treatment prevents dirt sticking on the leather's surface during colour or care. Our COLOURLOCK Leather Cleaning Brush will remove soiling from the depths of the grain (for best results, use a circular motion in all directions). You can also use the cleaning sponge contained in this kit.
After cleaning or, in the case of recently treated or oily leather, de-grease it using COLOURLOCK Leather Degreaser (not contained in the kit).

Once the surface has been prepared, apply COLOURLOCK Leather Fresh to revitalise the leather's original colour on scratches, abrasions or slight fading (which are often found in vehicle seat side bolsters and furniture sitting areas). The colour can be prepared according to our colour chart or send us a leather sample by post and we will mix it for you (an additional charge will apply for mixing colour according to a sample).

To maintain the top surface, we recommend our COLOURLOCK Leather Protector. It contains antioxidants, that stop the leather's decay, and UV filters to protect the surfaces from colour fading. It will also make the leather soft and supple once again.
Application
Always test any products first in a hidden area for changes or to confirm colour matching!
 
COLOURLOCK Leather Cleaner
The Leather Cleaner is provided in a foam dispenser bottle. Foams clean the leather more efficiently than liquid agents, the consumption is considerably smaller, and the leather does not become wet, which could otherwise lead to hardening after drying.

The Leather Cleaner gently cleans all kinds of nappa leather. Apply some foam on the Cleaning Sponge and proceed with cleaning the leather. Remove dirty foam with a slightly moist cloth.

COLOURLOCK Leather Fresh Dye

After a pre-cleaning with the COLOURLOCK Strong Leather Cleaner (which has a slight re-greasing property) and in case of oily spots, de-grease the leather additionally with COLOURLOCK Leather Degreaser.
Wait 1 to 3 hours for the cleaner to dry.
Apply the colour after the cleaner has dried.

Use a sponge to apply the colour evenly on the respective surfaces, working from seam to seam. Dry afterwards with a hair dryer. On small spots, one application is sufficient. Only treat surfaces where colour change is needed! If high opacity is desired, apply the colour in several layers and dry in-between layers with a hair dryer.

COLOURLOCK Leather Protector
Wait 24 hrs for cleaning or colouring products to dry completely. Use COLOURLOCK Leather Protector as soon as the leather has dried after cleaning or colour refreshment, ideally on the following day.
Apply with a soft cloth and let dry without polishing afterwards. One application is sufficient. Strained surfaces (heavy use or in sunlit areas) should be treated every three months. Clean before in case of soiling! 
This Product is available in 46 standard colours and special colours according to sample or manufacturer name.
Application:

Repair & Recolour

Application Area:

Bags & Cases

, Car

, Furniture

, Leather Cloth

, Steering Wheel

Leather Type:

Artificial leather

, Pigmented leather