Adam's Compound 12oz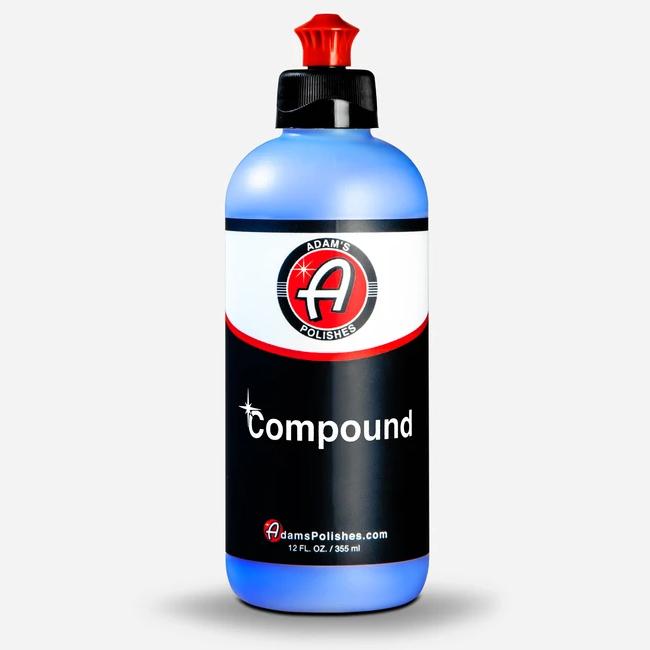 Adam's Compound 12oz
Remove swirls, fine scratches and heavy oxidation with ease. 1500-2000 Grit Sanding Marks
Removes ~1500 Sanding Marks
Thin liquid formula creates no dry spots on your polishing pad
12oz Bottle
Cuts swirls and oxidation fast, long working time
Designed for use with Blue Foam Compounding Pads
Silicone-Free, body shop safe
Primes and revitalizes your pad
Adam's Compound is a revised formula designed to be thinner and more effective for your cutting step in paint correction. This heavy correcting compound is designed to save you time and money during your polishing steps. This body-shop safe, user-friendly formula allows you to both prime your pad and reapply compound as you correct your vehicle, being it's a thinner formula. This product can be utilized with a Push/Pull top, or with our Premium Red Sprayer for preferred users. Adam's Compound is an effective tool for removing heavy stains, swirl marks, buffer halos, and heavy imperfections from your clear coat, single stage, or lacquer finishes. By using a thinner product on the pad, you're both priming the pad before polishing and using a minuscule amount, instead of overusing product on your pads. Users looking to fully perfect their paint are one step away from perfection with our polishing system, and Adam's Compound makes any polishing task a breeze of ease.
Adam's Compound is made for all detailers, by professional detailers. The water-based formulation features a Diminishing Abrasive Technology blend of aluminae oxides and polishing agents to cut swirls fast and effectively, while leaving a brilliant finish behind. When using a conventional compound or polish, you're applying 4 pea-sized drops to the pad surface then spraying Detail Spray onto the surface to both wet the pad and allow the product to travel out to the outer edge of the pad to completely cover the surface. With Adam's Compound, you're removing the worry of caking up your pads, clogging up fibers of your microfiber cutting pads, and keeping your compound working more effectively for longer!

Adam's Compound is VOC compliant and body shop safe and versatile enough for any type of polishing pads or machine polishers. This product can be used on clear coat, single stage, and lacquer paints, however, it is recommended for use with a softer pad and slow speed first to see how quickly your finish is corrected. This compound begins as a heavy cutting product, but finely polishes down to remove fine swirl marks, and oxidation without micro-marring your finish. Since the product is thin enough to be sprayed out of a premium red trigger sprayer, this product will not clog up microfiber cutting pads, blue foam compound pads, or hybrid pads like our One Step polishing pad.

Adam's Compound should be used primarily as a step-one compound to remove heavy oxidation and swirls-- the thin formulation allows the abrasives to break down into a fine polish, creating a haze-free finish to easily move to step-two. Should scratching, oxidation, or swirl marks still reside, move to a Microfiber Cutting Pad to further correct your finish.

Adam's Compound is designed for use with our Gen 7 Blue Foam Compound pad. If heavy correction is needed, you ideally will want to use this product with a heavier duty pad, like our Microfiber Cutting Pad.

This product is recommended for maximum results with our Swirl Killer Polishing system and should be used with a Microfiber Cutting Pad, or Blue Foam Pad if working on Single Stage/ Gel Coat finishes. Adam's Compound is designed to remove 1500 grit sanding marks and must be applied after your vehicle is washed, decontaminated, and clayed for a hassle-free experience.

Please note: When polishing a surface, you are heating up the clear coat to remove the swirl mark away from your paint and perfect your finish. As you polish, the process with take a very minute amount of clear coat away ( 1/32nd of an index card) from your surface. Repeated use, or improper use, can lead to paint imperfections that will require professional assistance.