Rupes Killer? Sort of. Not quite. Well, maybe.
A forced-rotation-like DA polisher.
(A collaboration with DETAIL POPO)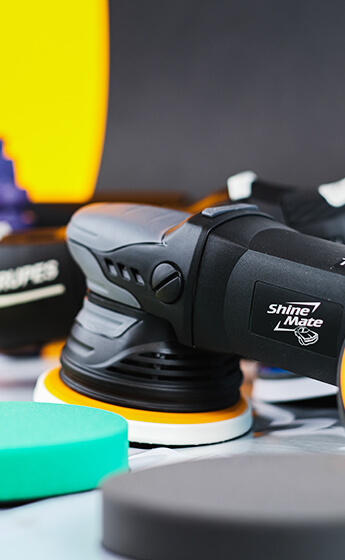 Everyone's interested in power
Specs:
800~1200W, 5" 15mm throw
3000~5800 RPM (free spin)
5.67lbs, 79.7 max db
Progressive trigger
12ft cord, M8 plate thread size, 1 year warranty
What sets the EX620 apart from most polishers is its power. Its ability to keep on spinning without stalling out. When pushed hard on a flat panel the machine will indeed not stall, but will stall slightly when going over a deep concave; this is simply because the pad will then be oscillating into the walls of the concaved area, and you want it to stall then.
Note on stalling: more or less doesn't mean it's good or bad, stalling actually teaches you if there's unevenness in the area you're working on where you need to reposition your polisher or ease off. A stalled, none-spinning pad doesn't mean it's not doing work! Though not spinning, the pad is still oscillating, the movement still provides correction. The spin helps with boosting correction speed and the distribution of products.
We often get asked if this is a good polisher for a beginner, simply because of its power, it sounds 'dangerous' and can do some paint-burning. The upfront answer to paint-burning is no, this will not burn paint when common sense is followed. A multi-stage cut/polish with multiple passes only reduces paint by 2~4 microns (clear coat is usually between 30~50 microns thick). An orange-peel sanding regiment removes about 4~8 microns. There's nothing to be afraid of. Have a look at the graphs below, you can limit your machine speed to 1~2 for some good correction still.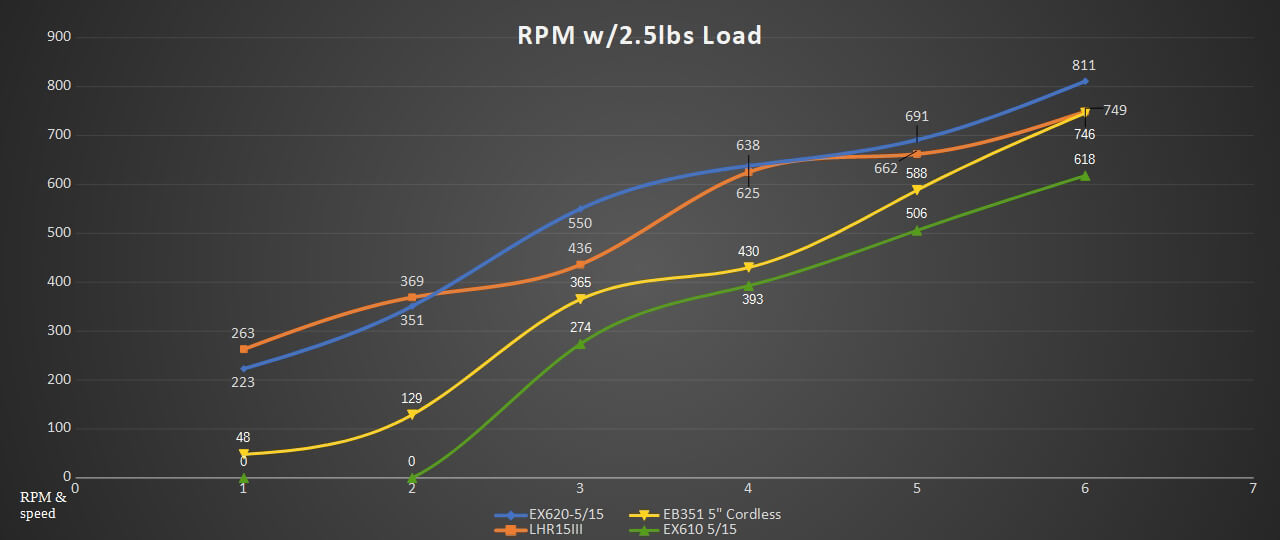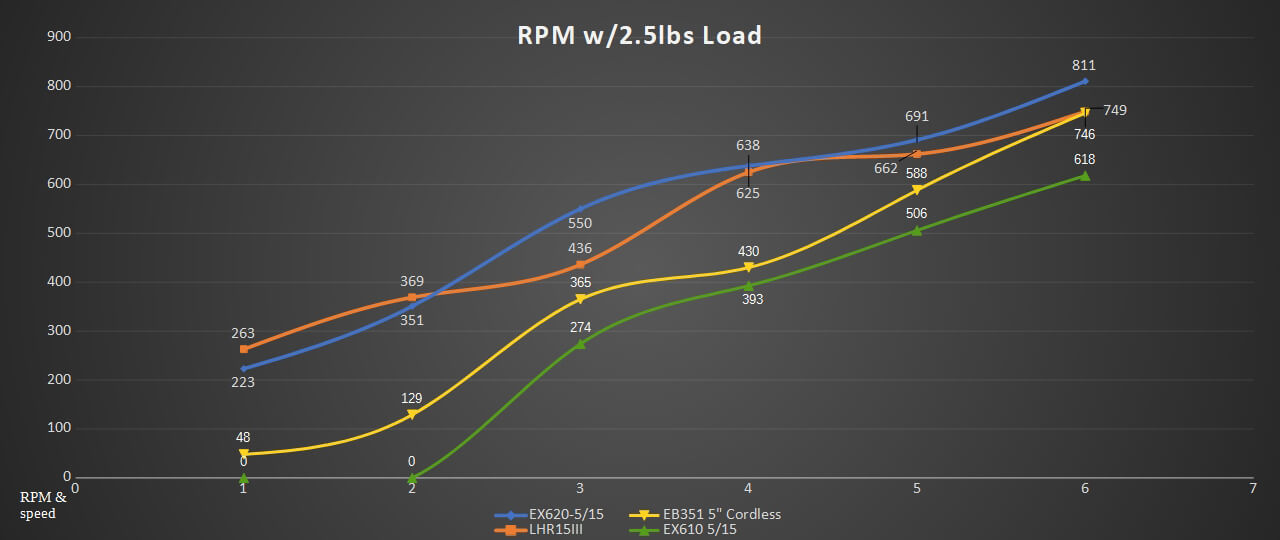 The power is not as scary as it seems, it's about ~10% stronger than the Rupes LHR15III (the gap will widen when more pressure is applied). But a big improvement over its predecessor EX610. Currently, per our finding, there are no (DA, free spinning) polishers that come close to EX620's power, especially when the load exceeds 2.5lbs+.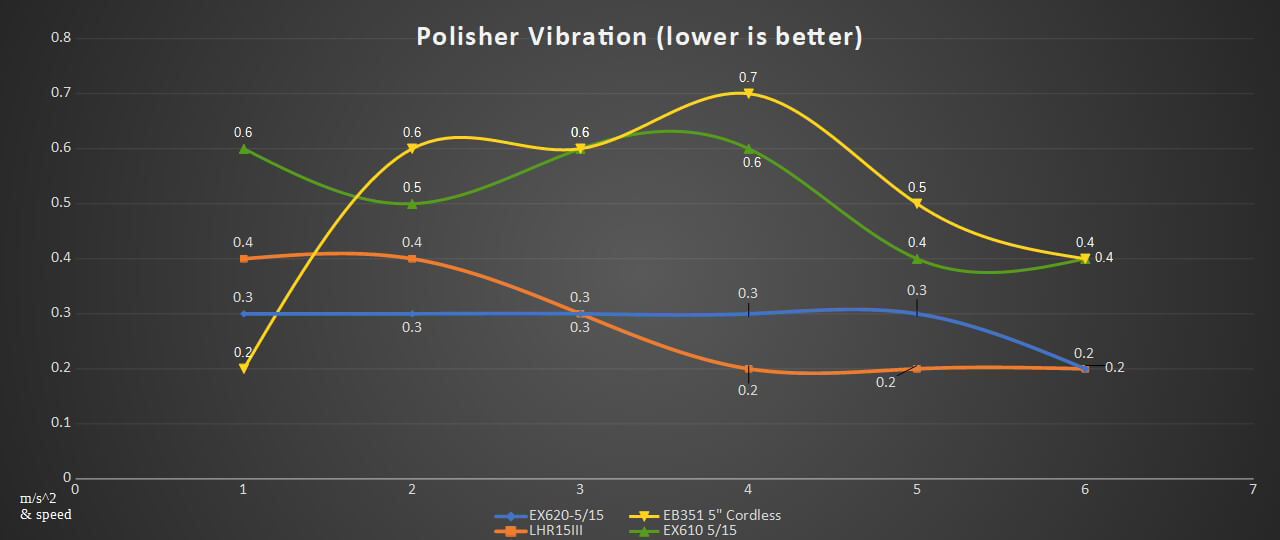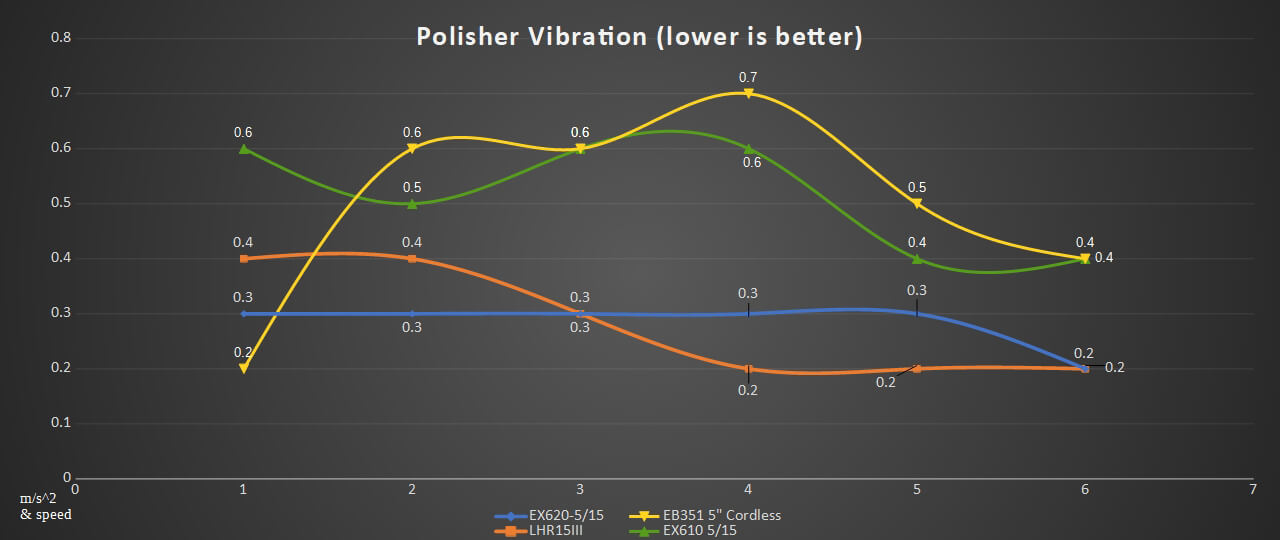 (Tested with 5.5" Rupes Blue Foam Pad.)
A quick note on the vibration numbers, anything below ~1.2 m/s2 is acceptable and workable, and commonly found on budget polishers such as Porter Cable 7424XP. What good is power if it's unbalanced and fatiguing to use? Not the case here. The counterweight and backing plate are paired extremely well to have these kinds of low vibration numbers, matching or exceeding the Rupes LHR15III at some speeds.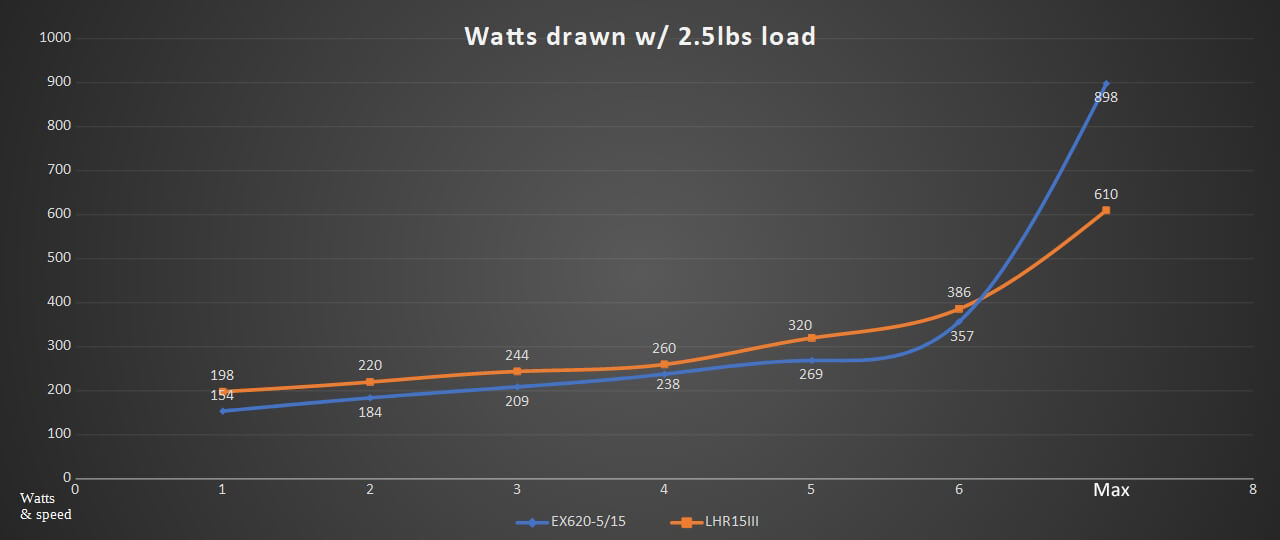 Wattage draw is measured from the wall. Quite surprising to see that the EX620 systematically maintained a ~10% lower power draw, we were expecting the polisher to be less efficient, perhaps from the built, the motor or the bearing not being as refined, corners must be cut somewhere, right?!... Boy, we were wrong. At speed 6 with 2.5lb load registered 811 rpm with 357 watts, versus Rupe's 749 rpm and 386 watts. The EX620 is stronger and draws less power. But we think one of the contributing factors for the slightly more wattage drawn from the LHR15III is perhaps the plate/shroud rubbing 'problem', which a 'washer mod' can easily solve.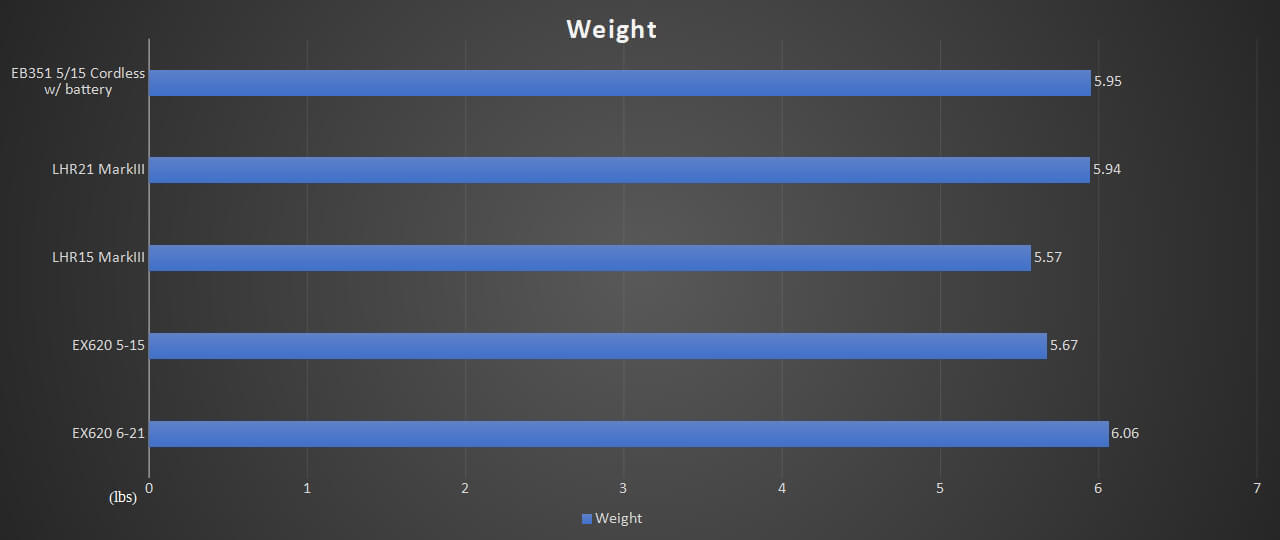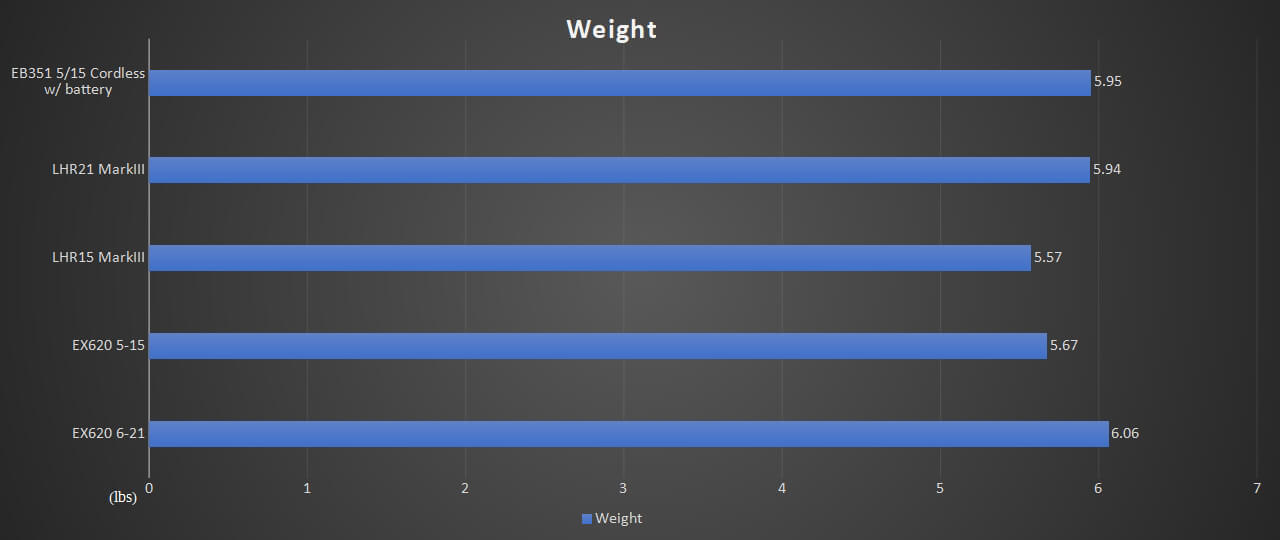 The weight between the 5 & 6" Rupes, Shinemate polishers are very similar, with the 6" just being less than 0.5lbs heavier with both. The star here is actually the Cordless EB351, with the battery equipped it's only 5.95lbs, was expecting a cordless polisher to be much heavier, not the case! (Once you go cordless it's really hard to go back to corded).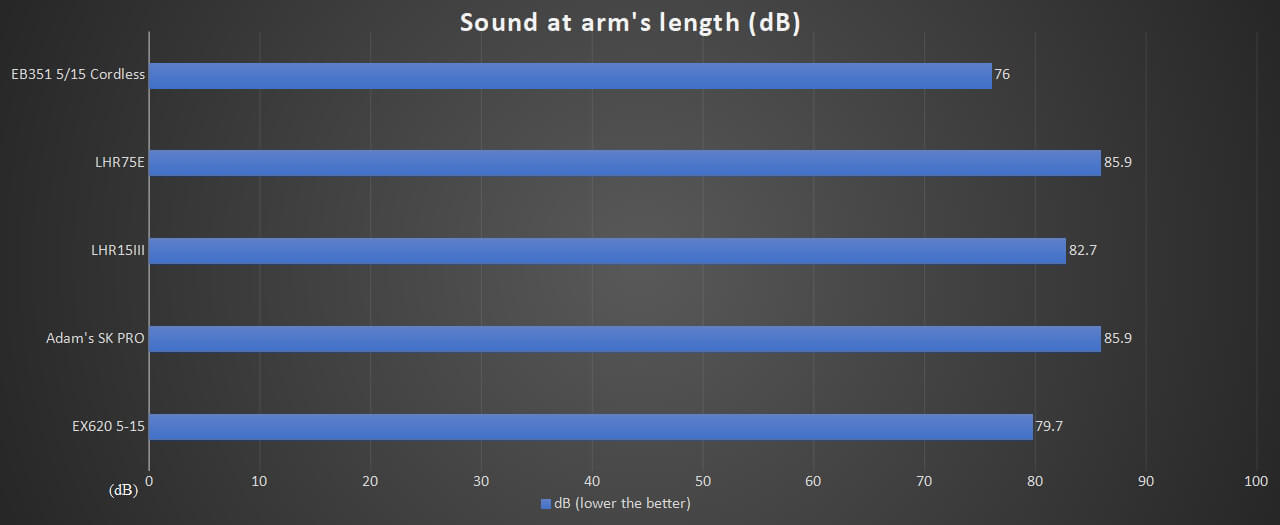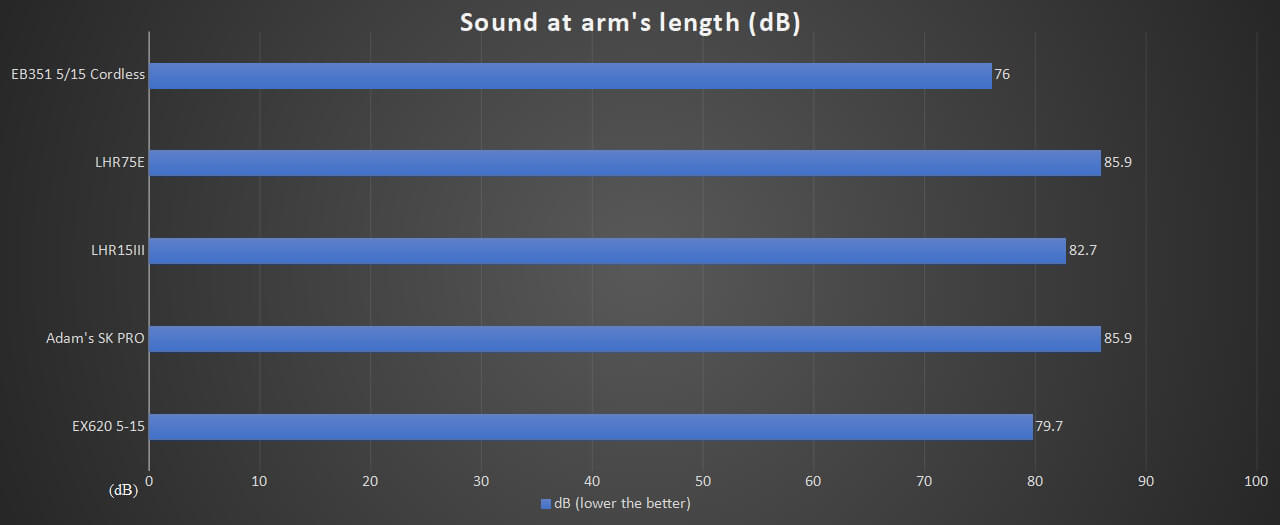 The beefy motor must raise a ruckus, when something's bigger it must be louder too, right? Again, not the case here, the EX620 registered 79.7 dB, the lowest of the corded bunch at arm's length. And you're right if you notice your EX620 sounds a little 'gurgly', that's normal. The star here once again it's the cordless EB351 at 76dB.
Conclusion
So is it a Rupes killer? Well, maybe. On paper, the Shinemate is certainly a better bet. In actual work, both polishers perform very similarly and we would say that the Rupe feels better in the hands, the build quality is nicer (of course) and more robust, just like closing the door of a BMW. It's not to say that the EX620 is cheaply made, it's got some good heft to it with well-positioned rubber paddings all around. We think having an underdog matching a legend is really neat, this will only push the tech forward and in the end, we'll all benefit from it.