Zaino Z-16 Perfect Tire Gloss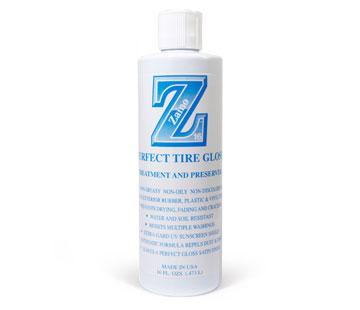 Zaino Z16 Tire Gloss - Your search for great looking tires ends right here!
For many years I have been dissatisfied with tire dressings available in the consumer market. Most are loaded with silicone oil, and those that aren't don't shine well. Plus, most of the products we've tested are very greasy, leave an oily and messy, attract dirt and dust like a magnet, and sling off the tire. Not to mention, have you ever seen a silicone oil-based dressing that has UV protection?

We created Zaino Z-16 Perfect Tire Gloss™ to solve these problems once and for all. Z-16 Perfect Tire Gloss™ is a non-oily, rubber and exterior vinyl finishing treatment. Our unique formula contains Ultra-Gard™ UV(40) and our exclusive moisturizing and antistatic solution to prevent drying, cracking and browning. Z-16 Perfect Tire Gloss™ helps repels dust and dirt to keep your tires looking great, longer. One application of Z-16 Perfect Tire Gloss™ leaves an incredibly durable, water repellent, perfect looking satin finish, that's only slightly glossy and dry to the touch.
The Z-16 bottle contains 16 fl. ozs. (473 ml.)
APPLICATION INSTRUCTIONS
Use on all exterior rubber, tires, moldings, plastic trim, weatherstripping, underhood hoses and more.
 
Just wet a sponge with Z-16 and apply to the surface to be treated and let dry. It will last thru rain and multiple washings. Z-16 is very durable and will last an average of 3 to 4 weeks on an outdoor car.
 
Z-16 is not recommended for vinyl tops.