Zaino Blonde Borderfree Towel: 3 pack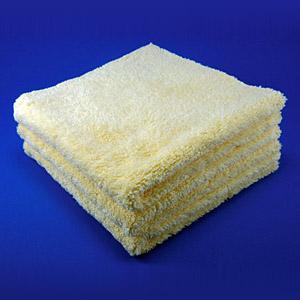 The most LUXURIOUS, SOFT, SAFE, and EFFECTIVE towel available anywhere!
• Unique Borderfree design won't scratch
• Efficient buffing of product leaving amazing finish
• Safe for all finishes including the finest in the world
• 16" x 16" 

GREAT for use with ZAINO detail sprays including Z-6 and Z-8 
Borders scratch. We analyzed 1000's of towels from every major manufacturer and reseller. We found several available edge treatments including overlocked, serged, blunt cut, laser cut, ultrasonic cut, silk edge, microfiber edge, suede edge, satin edge, and many other combinations of style and material. They can all scratch. 

Developing a towel to meet our standards of performance and quality has not been easy. The Zaino Borderfree towel is the perfect balance of performance and luxury. 

CARE INSTRUCTIONS: Launder separately in warm water using liquid detergent, without any bleach or softeners. Air dry or tumble dry on low, without any dryer sheets. Do not iron. This towel will not scratch, however trapped grit or debris can scratch. As this towel is manufactured using a unique non-hemmed border-free process, some edge fraying is normal and can be trimmed with scissors. 
Made in the USA