TACSYSTEM Quartz Deluxe 50ml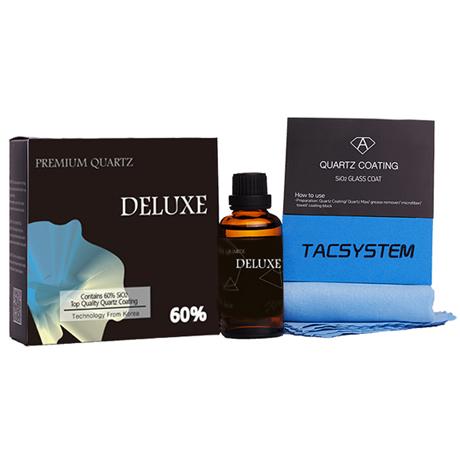 TAC Premium Quartz Deluxe is easy to apply which allow everyone to achieve an extraordinary shine and super hydrophobic coating. TAC Quartz Deluxe was designed as a specialized protective coating not only for vehicle Painted Surface but also for polyurethane films and vinyl. It can provide long term durable protection, Highest Gloss, Extreme Slickness, Outstanding UV & Chemical Resistance and super hydrophobic surface properties.


Net content: 50ml
Common Uses: Used for painted surface, rims, chrome, plastic, Paint Protection Film and Vinyl Wrap.
Included:  
1x Premium Quartz Deluxe
5x Suede 10cm x 10cm
1x Suede 40cm x 40cm
1x coating block
Durability/Specs: 3~5 years. Measurable thickness: 0.3~0.5um. SiO2 concentration: 60%.
Tips / Alternate Uses:
High spots are visible for 20-30min. If high spots are found within an hour of wipe off, they can be reactivated and removed with Quartz UHS on a newmicro fiber applicator.
For Optimal Results:
First thoroughly wash vehicle with Ultra Foam/ Mystic Bubble/ Mystic Water Repellent then remove all embedded iron deposits from vehicle paint pores and surfaces using Iron Zero/ Iron Zero Foam. Next, polish vehicle surfaces to the highest level. After polishing, use Oil Zero to remove all polish residues from surfaces to ensure optimal bonding and durability for the coating application.
Max Efficiency (not required):
1. Apply Base Coat then cure with IR lamps at 50°C-60°C for 30 minutes.
2. Apply Top Coat then also cure with IR lamp.
Post Application Instructions:

- Wait 1hr before topper can be added.
- 24hrs before any water exposure.
- Wait 7 days before first wash.
Durability/Specs: 3~5 years. Measurable thickness: 0.3~0.5um. SiO2 concentration: 60%.