Pinnacle Black Label Tire Clear Coat 8oz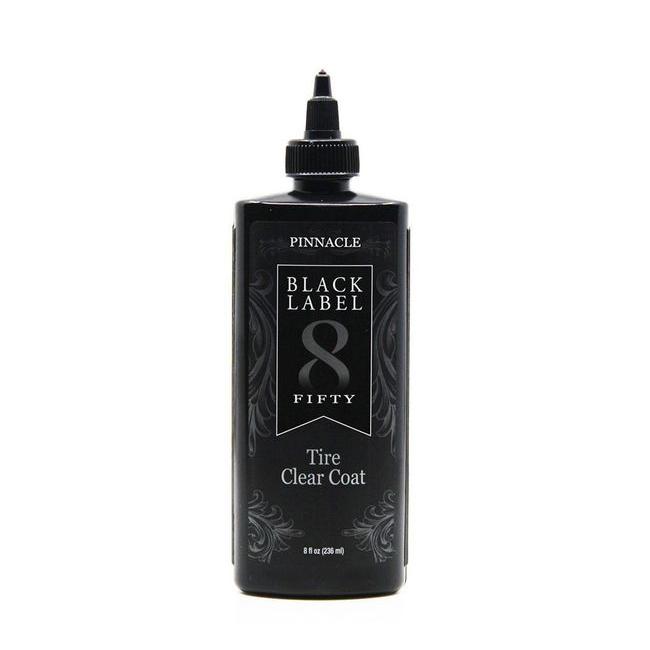 Tires have, for a long time, been a difficult surface part of your vehicle to properly protect. Because your tires are made of rubber and rubber is extremely porous and flexible by nature, it is extremely challenging to develop a protection product that lasts longer than a week. Tire dressings and gels are designed to penetrate the porous surface of your tires to maximize their lifetime. However, for these products to accomplish this, they must be more fluid in composition. It is much more difficult for a liquid to remain on the surface than it is for a solid layer of durable protection to do the same. But because a hard and rigid product is not able to penetrate the pores of your tires, it tends to delaminate when your tire begins to flex underneath it. That is until Pinnacle Black Label Tire Clear Coat was developed.



Pinnacle Black Label Tire Clear Coat is able to succeed where other tire protection products fail thanks to its unique and advance formula. The chemical composition of Pinnacle Black Label Tire Clear Coat strikes a crucial balance between rigidity and flexibility. Pinnacle Black Label Tire Clear Coat is rigid and durable enough to withstand the constant bombardment of harmful contaminants to which your tires are exposed. Yet, Pinnacle Black Label Tire Clear Coat is also flexible enough to flex WITH your tires, preventing it from delaminating from the surface!

Directions for Use:
Before application, tires must be extremely clean. Clean using the Pinnacle Black Label Gel Tire Cleaner. The Gel Tire Cleaner will remove all previously applied dressings and will allow the Tire Clear Coat to form a bond to the tire sidewall. Allow tires to fully dry.

Dispense a nickel-sized dollop to a foam tire applicator and smooth evenly along the sidewall of the tire. Allow the Tire Clear Coat to dry for 30-60 minutes between coats, if desired.