GYEON Matte 50ml Kit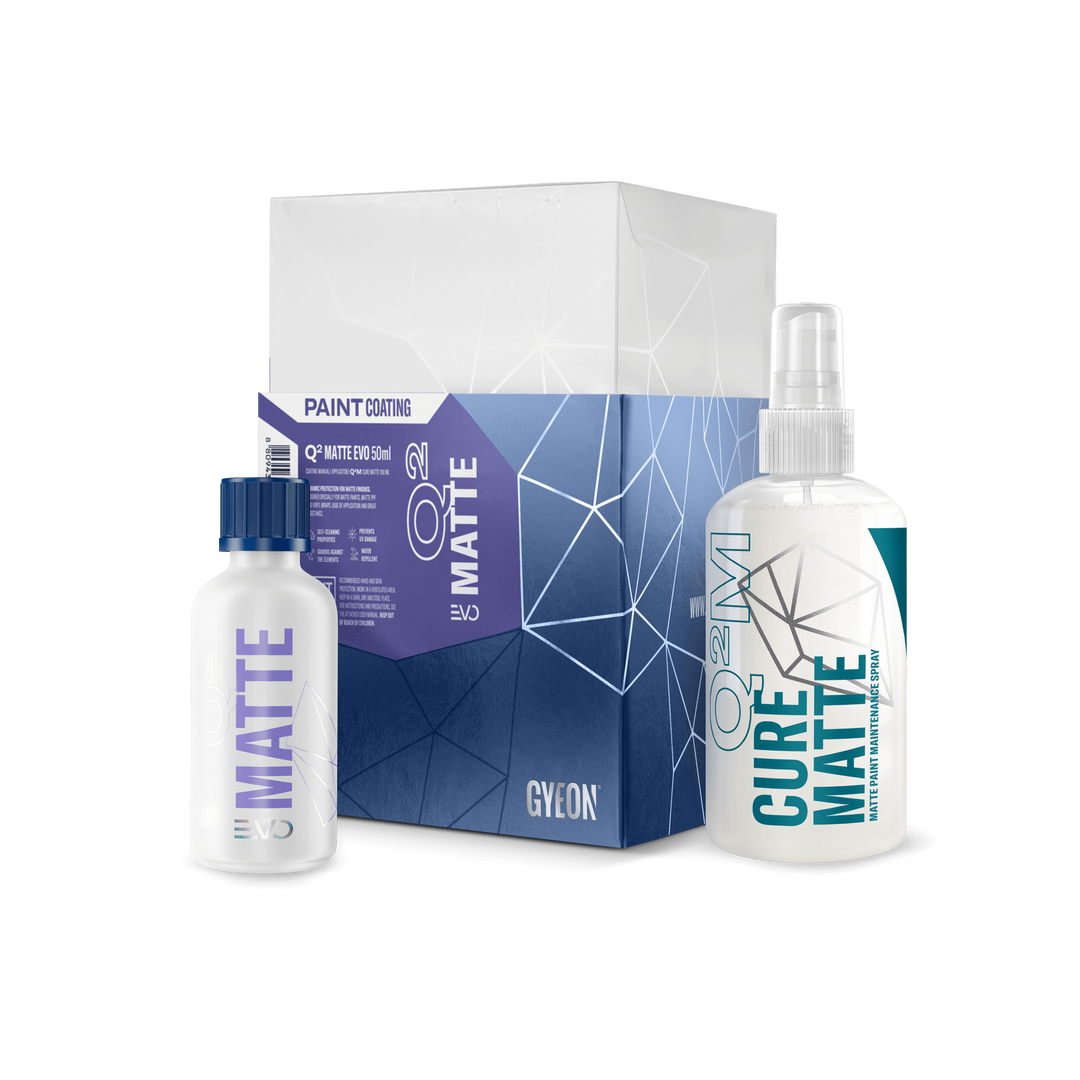 GYEON Matte 50ml Kit
Advanced quartz technology combined with user friendly characteristics
Unique quartz coating for matte paint. Enhances color without changing the finish of your matte paintwork. Q² Matte is very easy to apply, only one layer is required. Extremely hydrophobic and designed for maximum durability on matte finish automotive paint. Prevents discoloration and oxidation, protects against strong chemicals, road salt and UV-rays. The coating is resistant to any chemicals with a PH value from 2 up to 11. After taking a look at the Maintenance Guide above, Read GYEON's Quick Guide to Ceramic Coatings here.

Consumption: 15ml/ layer

Hardness: 9H

Contact Angle: >110'

PH Tolerance: pH 2-11

Thickness: 0,2 - 0,5qm

Durability: UP TO 24 MONTHS / 30K KMs

THE ULTIMATE SOLUTION FOR MATTE FINISHED CARS
Q² Matte is the most advanced quartz coating designed only for matte finished paintworks. As the formula has been created from scratch, it provides incredible durability in comparison with regular, versatile products. Self cleaning and beading performance has also been greatly improved when compared with standard coatings used on matte paintwork.
LEAVES A FULLY MATTE FINISH
Apart from its simple application, a major benefit of Q² Matte is its neutral finish on matte or satin paints. Its highly advanced, silicon dioxide (SiO2) based formula has been specially designed to provide full UV and chemical protection combined with great self-cleaning properties on the very demanding structure of matte paintwork. The Q² Matte kit also includes our special hydrophobic spray-sealant/quartz detailer formulated for matte paints – Q²M Cure Matte along with all the required applicators and a product-specific user manual.
Advice on application and precautions
Before you start applying, make sure that the surface is free of oil and completely dry. It is recommended to wash the car with Q²M Bathe, use Q²M Iron and Q²M Tar to remove impurities and degrease with Q²M Prep. Skin protection is recommended. Work in a well-ventilated area. Store in a dark, dry and cool place. Keep out of reach of children. Avoid applying in direct sunlight.
DURABILITY:    ★★★★
MATTE EFFECT:     ★★★★★
BEADING:    ★★★★
HARDNESS:     ★★★★★
SELF-CLEANING:     ★★★★★