Dr. Beasley's The Final Finish 12oz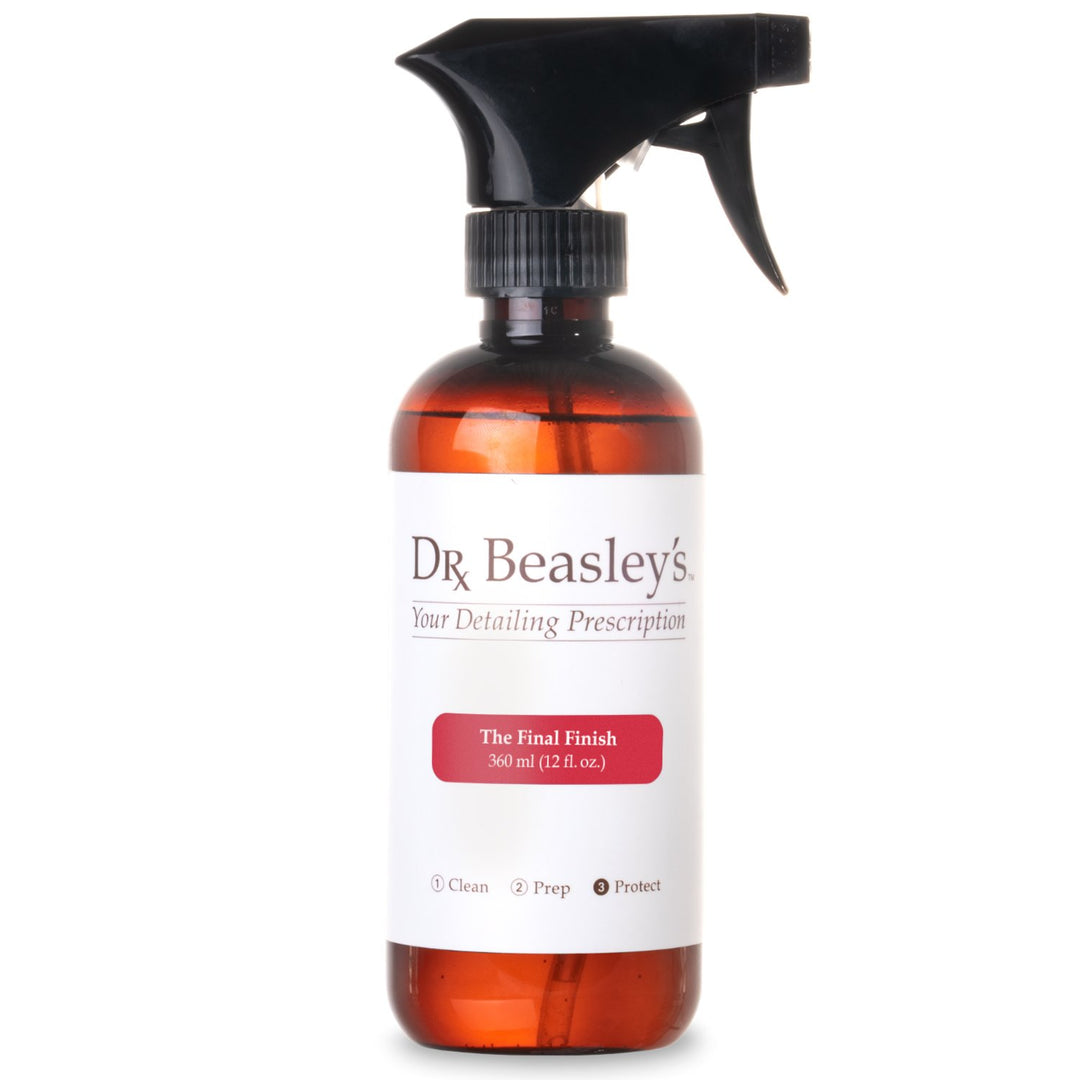 Dr. Beasley's The Final Finish 12oz
The Final Finish is the go-to auto detail spray for instantly removing surface dust, smudges, and fingerprints from your vehicle's paint. With an easy, quick application, it's ideal for freshening up the paintwork in between washes and leaves a beautiful protective shine.

Quick and easy application
Removes smudges, streaks, and fingerprints
Safe to use on coated or waxed surfaces


Why The Final Finish

You know The Final Finish is an easy-to-use detailing spray. But what exactly does it do?

Eliminate Light Contaminants

You just washed and detailed your car yesterday, but somehow there's dust and smudges all over it. Time for another wash? Not if you have The Final Finish. Just spray on to the contaminated area, wipe up and the offending substance is gone. If you're looking to keep a pristine surface but don't want to break out the buckets every time you see a fingerprint, the Final Finish is for you.

Restore Shine With A Hand Buff

Light contaminants like dust and smudges have a tendency to dull your paint's luster. That's why The Final Finish doesn't just remove contaminants – it shines your paint, too. Once you've wiped off the mess, just go back and hand buff with a microfiber towel to reveal a beautiful gloss that blends in perfectly with the rest of your car's paintwork.

Perfect For Coating Maintenance

When you have a ceramic nano coating over your car's paint, it's important to keep the surface contaminant free as much as possible so your coating can last as long as it can. That's why we recommend in all of our glossy coating's After Care instructions to use The Final Finish on any fresh contaminant that pops up, so your coating will continue to protect your paint for years.

How Does It Work?

Once applied, The Final Finish clings to the targeted contaminant, allowing it to wipe clean off. Once the contaminant's removed, hand buffing the area will then reveal a beautiful shine that blends in with the rest of your paint's gloss. Our proprietary formula allows The Final Finish to be safely applied to any surface on your car – glass, chrome, aluminum, rubber, even woodwork.

DIRECTIONS
Application Instructions

1. Shake well.
2. Spray Final Finish evenly and directly onto clean, dry surface, one section at a time.
3. Immediately wipe with a soft, lint-free cloth.
4. Hand buff until it produces a glossy, lustrous shine.


Additional Tips

Do not apply to hot surfaces.
For maximum results before Final Finish, wash the car with Premium Body Wash.
Before applying, test a small amount in an inconspicuous place to check compatibility with surface.