Dr. Beasley's Matte Film Coating Kit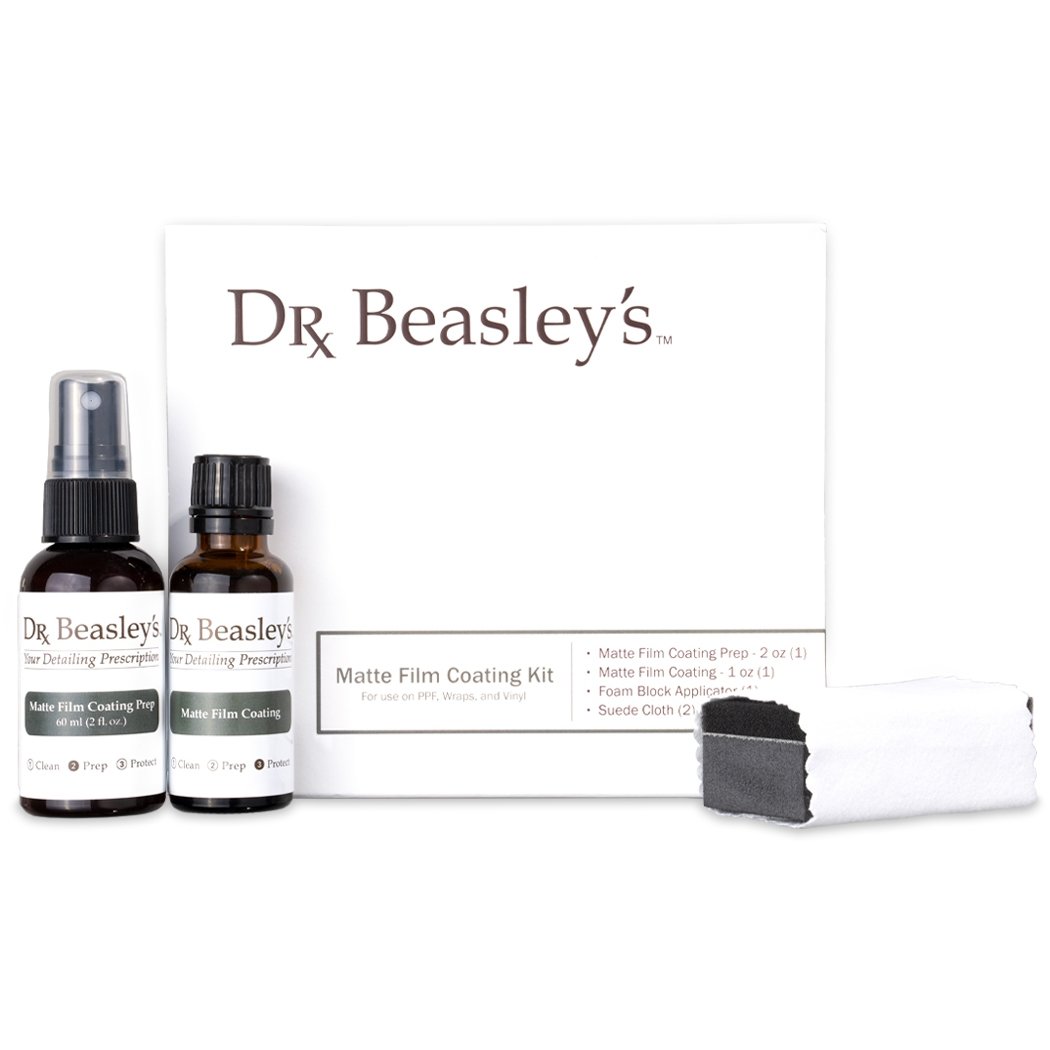 Dr. Beasley's Matte Film Coating Kit
Dr. Beasley's Matte Film Coating Kit is a ceramic coating system formulated specifically for matte vinyl wraps and paint protection films. Maximize your wrap or film's lifespan with the coating's added UV inhibitors that prevent fading, yellowing and disadhesion, while minimizing maintenance with hydrophobic self-cleaning. Get everything you need to properly prep and protect your matte wrap.
Hydrophobic for easy cleaning
Prevents fading and yellowing
Preserves self-healing properties
Great for matte paint protection films, wraps, vinyl, decals and stripes
Why The Matte Film Coating Kit?
The Matte Film Coating Kit is a permanent nano ceramic coating for matte PPFs, wraps and decals. But why do I need a coating designed for film?
Keep Your Wrap For Longer
Vinyl wraps and stripes are a great way to get a matte look without repainting your car. But wraps aren't invulnerable—UV rays fade their color, crack their material and even break down the adhesive keeping them on your paint. To keep your wrap as long as possible, you'll want to have it protected by Matte Film Coating's proprietary UV-inhibiting formula. It keeps your color vibrant, your surface healthy and most importantly, your wrap in place.
Keep Your Film Self-Healing
These days many vinyl wraps and PPFs come with unique self-healing properties. When exposed to a direct heat source, micro-marring or wash marks get filled in, erasing them entirely! But when you install a ceramic coating over a self-healing film, the coating takes up the space needed for self-healing, robbing your film of its rebounding qualities. Protecting your wrap shouldn't mean sacrificing self-healing, which is why we formulated Matte Film Coating for flexibility, allowing your film the room it needs to bounce back from blemishes of all kinds. You'll have the best of both worlds – a resistant coating and a self-healing film. 
Resist Staining and Etching For Easy Cleaning 
Say your vinyl wrap or PPF gets stained or etched – at least it wasn't the paint, right? But now your wrap's stained and etched, meaning you'll need to either get a new one or deal with it looking awful. How can you get your paint and your wrap protected at the same time? Matte Film Coating solves this problem with its durable, hydrophobic properties. Once installed, Matte Film Coating's hydrophobicity causes liquid contaminants to rest on the surface to prevent staining, while its tough barrier resists the etching caused by caked on contaminants. But it's not just protection you're getting – this hydrophobicity makes your wrap ridiculously easy to clean. Any contaminants on your surface will slide right off in a wash, saving your film from heavy duty scrubbing or harsh chemical cleaners.
Won't Gloss Matte 
It's not just self-healing that standard ceramic coatings ruin on matte vinyl – they also turn your wrap's surface into a horrible, splotchy mess. To get your film protected without altering the finish, you'll want to use Matte Film Coating. Formulated without silicones or glossing agents, it smoothes out your matte's color, keeping it as fresh and consistently flat as the day you bought it. 
How Does It Work?
Matte Film Coating forms a cross-linked bond with your matte film's thermoplastic surface, creating a highly durable, permanent barrier. Once bonded the coating will resist micro-marring and etching, inhibit UV rays, bead and sheet liquids, and preserve self-healing properties. Its no-filler formula will keep your matte's appearance and smooth out any inconsistencies. 
 What The Kit Includes
(1) 1 oz Matte Film Coating
(1) 2 oz Matte Film Coating Prep
(1) Foam Block Applicator
(2) Suede Cloths