Dr. Beasley's Glass Serum 1oz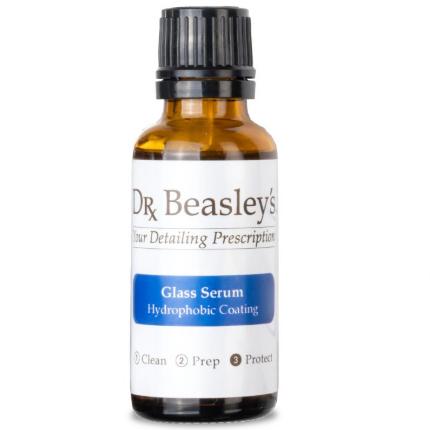 Dr. Beasley's Glass Serum 1oz
Glass Serum makes driving through tough weather conditions safer and easier. This nano coating for glass creates an intensely hydrophobic barrier on your car's glass to keep rain and snow moving off your windshield. Glass Serum also prevents contaminant buildup, so keeping your glass clean will be easier.

Extremely Hydrophobic
Scratch & Dirt Resistant
Durable


Glass Serum is designed to increase visibility while driving through tough weather. Dr. Beasley's is based in Chicago, so we see plenty of rain, snow, sleet, and other extreme weather conditions. Keeping the elements off your windshield is crucial for safety as well as a better driving experience.

Our hydrophobic protectant for glass is long lasting, scratch, and dirt resistant. This nanocoating is easy to apply and keeps glass insanely hydrophobic, especially on the highway. After a few simple preparation steps, your glass will be ready for an application of Glass Serum.

Protected glass means washing and maintenance are easier. Driving through storms won't be quite so scary with a crystal clear, hydrophobic windshield. Water spots and etching won't be an issue either. Get your 1 oz bottle of Glass Serum to protect 2-3 cars!


1. Clean glass with an ammonia free cleaner.
2. Mix 1 part isopropyl alcohol with 4 parts water. Spray the solution on your glass and wipe it off.
3. Apply several drops of Glass Serum onto the suede cloth that's wrapped around your foam block applicator.
4. Slowly and precisely move the foam block applicator in vertical lines down your glass.
5. Move the applicator in horizontal lines across the glass to achieve a crosshatch pattern.
6. Allow Glass Serum to dwell on the glass for 10 minutes.
7. Wipe the glass with a clean, dry, tagless microfiber towel.
* Wait 1 hour after applying this nano coating before driving. Do not wash the car for 7 days after applying Glass Serum*