Dr. Beasley's Ebony Polish 8oz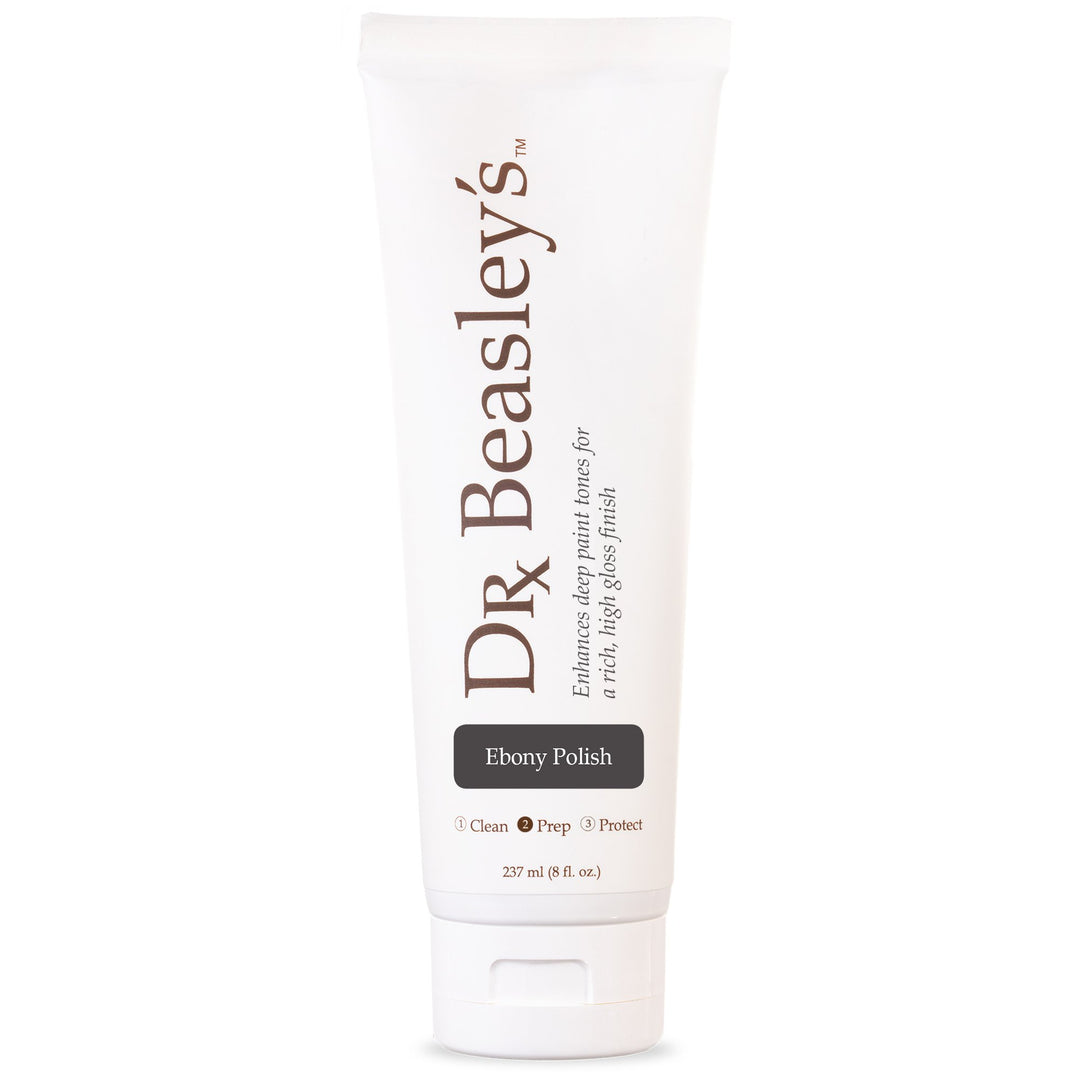 Dr. Beasley's Ebony Polish 8oz
A polish designed specifically for deep black paintwork, Ebony polish restores and enhances the complex, rich tones that tend to be lost over time. Able to eliminate fine scratches, micro-marring and wash marks while imparting a incredibly deep shine, this product is a must-have for anyone with saturated, dark finishes.

Rejuvenates and enhances rich black paintwork
Removes fine scratches and micro-marring
Works on other deep colors as well

For use with machine buffer only. Do not use by hand.
Why Ebony Polish?

Ebony Polish is a polishing cream designed specfically for rich, black paintwork. But why would you need a polish just for black paint?

Polish Out Light Marring

If you've got a car with a deep, black finish, you know how badly even the slightest imperfections in your surface show up. But having a glossy, black car shouldn't be a death sentence when it comes to having pristine paint. There's a way to keep these fine scratches at bay – it's called Dr. Beasley's Ebony Polish. Designed with black paint in mind, Ebony Polish smoothes out the micro-marring and wash marks using its special blend of light abrasives. Once you've tried Ebony Polish on your black finish, you'll never dream of using anything else.

Restore Look of Deep, Rich Black Paintwork

Years back at our Chicago detail shop we had a customer come in with a Bentley Continental GT in Beluga Black, one of the deepest, richest paint tones out there. Problem was, after years of use, that deep, rich tone had dulled significantly. We tried polish after polish but the rich luster just wasn't coming back. That's when we jumped in the lab and formulated something new – and Ebony Polish was born. It brought back the dark, complex tone of the Bentley, restoring the warm, deep glow you'd expect from Beluga Black. Now we're putting Ebony Polish in your hands, because you deserve rich paint, too.

Great For Deep Blues, Greys and Reds, Too

Don't be thrown off by the "ebony" moniker – this polish works well on other deep colors, too. From blue to grey to green to red, any color with a complex, rich tone can reap the benefits of Ebony Polish. If you know your paintwork's capable of so much more, Ebony Polish will get it where it needs to be.

How Does It Work?

Ebony Polish works like any other polish. When used with a random orbital machine buffer on a thoroughly clayed and decontaminated surface, it polishes out fine scratches, micro-marring and wash marks, leaving a pristine, deep gloss. After it dries to a haze, wipe down with a soft microfiber towel to reveal the gloss. Follow-up with a coating of Formula 1201 or PlasmaCoat to seal in the gloss.

DIRECTIONS
Application Instructions

1. Apply Ebony Polish to a buffing pad and and use with a random orbital machine buffer on desired paint surface.
2. After product dries to a haze, remove with a soft, clean microfiber cloth.


Additional Tips

For best results, be sure that car is thoroughly washed, dried, and clayed before use.
Ebony Polish can be used in conjunction with any of our compounds and polishes or as a standalone product.
Follow with Dr. Beasley's Formula 1201 or PlasmaCoat.
Before applying, test a small amount in an inconspicuous place to check compatibility with surface.