Dr. Beasley's Chassis Coating 14oz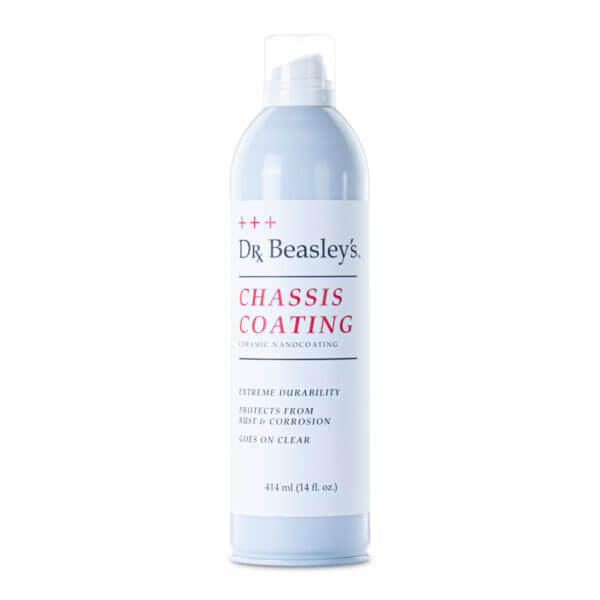 Dr. Beasley's CHASSIS COATING protects sensitive, exposed surfaces like vehicle undercarriages from damage caused by water, salt, and other environmental contaminants. It dries clear and can be removed easily, so you don't have to worry about discolouration, or altering the look of your vehicle, making it perfect for expensive custom vehicles or show cars that need to maintain their original appearance. 100% aerosol propellant-free.
PROTECTS AGAINST WATER & SALT
Formulated to resist corrosive environmental contaminants such as water and salty air
RESISTS RUST AND CORROSION
Prevents the chemical reaction that causes metal surfaces to rust
EXTREME CERAMIC DURABILITY
Engineered with nanotechnology to ensure robust, long lasting protection
DRIES CLEAR AND PRESERVES APPEARANCE
Leaves an invisible shield and maintains the existing look of the surface
INSPIRED BY ICON'S JONATHAN WARD
Chassis Coating was inspired by Jonathan Ward, owner of ICON 4×4. Some ICON vehicles were being delivered to tropical locations where they were exposed to harsh conditions and salt air was causing premature undercarriage oxidation. Dr. Beasley's has long worked with Jonathan and the team at ICON to maintain the matte finishes on their vehicles, so when they needed a corrosion resistant product they turned to Dr. Beasley's founder and chemist Jim Lafeber to custom formulate a solution just for them. Jonathan told Jim that he needed this product to dry totally clear, as he did not want to alter the existing appearance of their vehicles' undercarriage. At the same time, it required a high level of durability to endure the harsh salt air and water for an extended period of time. Chassis Coating was formulated specifically to meet these needs, and now all ICON vehicles are treated with Chassis Coating.

PROTECTS AGAINST RUST AND CORROSION
Rust and corrosion doesn't just affect cars driven in the snow and rain. Take this story, for example: a Dr. Beasley's customer once purchased a classic car thinking it was in mint condition — perfect paint, original owner, low miles, kept in storage during winter — only to find the undercarriage was rotting from within. Even though it was kept in storage, the concrete floor emitted water vapor that collected on the undercarriage, slowly corroding the vehicle until it was a rusted shell of its former self! Chassis Coating is formulated to resist this kind of corrosion, preventing the chemical reaction that causes rust. You can be assured that no matter where a vehicle is being stored, it will be protected.

EXTREME CERAMIC DURABILITY
Many undercoatings are durable for only a few months and don't work well for longterm storage and protection. In order to achieve long lasting protection, an undercarriage coating must be formulated with robust ceramic nanotechnology. Only this form of protection is graded for the kind of longterm durability that ICON required for their vehicles, which is why Dr. Beasley's Jim Lafeber developed Chassis Coating as a strong ceramic coating as opposed to a weak spray sealant. With this kind of durability, Chassis Coating can withstand even the harshest, saltiest environments that a vehicle may see.

DRIES CLEAR TO PRESERVE APPEARANCE
When you think of protection for a vehicle's undercarriage, you may imagine a can of spray paint that totally covers the underside with a pitch black coating. ICON needed an undercoating that would instead dry clear, as they did not want to alter the appearance of the undercarriages on their custom vehicles. In response, Dr. Beasley's Jim Lafeber engineered Chassis Coating to leave a completely invisible shield on the undercarriage as opposed to a dark coat of paint.


DIRECTIONS

Shake well.
Wearing gloves, hold bottle 12" away from surface and spray evenly, applying a thin layer. Do not saturate the surface — this product should not drip.
Let sit undisturbed until the area is completely dry. This time can vary depending on temperature and humidity.
Reapply seasonally or as needed.
IMPORTANT INFORMATION
Only apply in well ventilated areas.
Wear gloves while using.
Using a face covering is recommended.
Product should only be applied to clean, dry areas.
Product may drip from cap while applying. This is normal for our eco-friendly packaging.