Dr. Beasley's Carpet & Upholstery Cleanser 12oz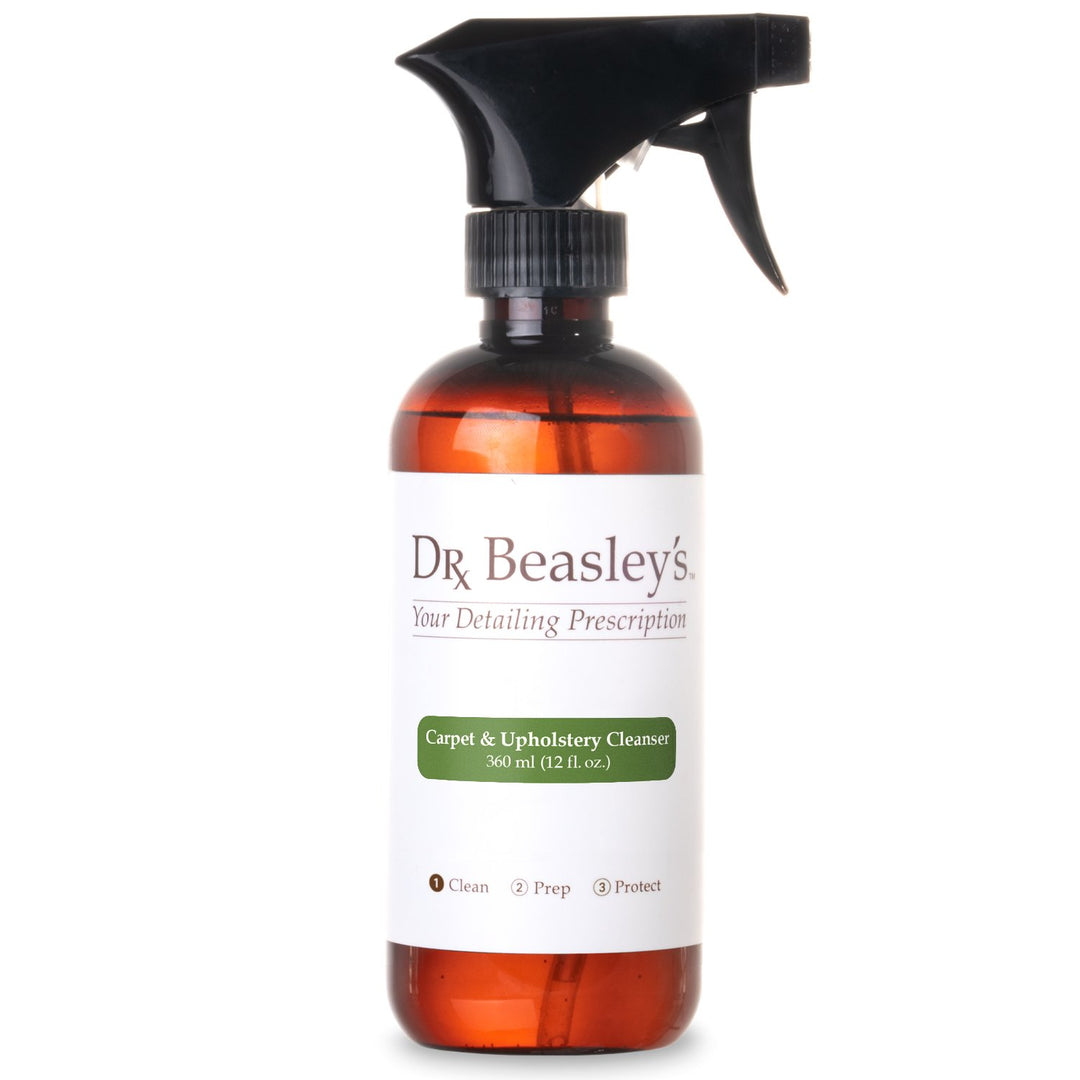 Dr. Beasley's Carpet & Upholstery Cleanser 12oz
Carpet & Upholstery Cleaner is a general-purpose fabric decontaminator that fights odor-causing bacteria and dirt trapped within carpeting and upholstery. It removes light stains and aromas from your car's interior, leaving a fresh, clean scent after every cleaning.

Eliminates odor-causing bacteria
Safe to use on carpets, seats, headliners, and more
Leaves a pleasant scent


Why Carpet & Upholstery Cleanser?

You know Carpet & Upholstery Cleanser is an effective cleaner for your interior fabrics. But what makes that cleaning power so effective?

High-Nap Formula For Deep Cleaning

Day-to-day, dirt, food and other contaminants embed themselves into your car's carpeting, leaving them looking faded, dirty and generally disgusting. Your average cleaner isn't going to do much here – but Dr. Beasley's Carpet & Upholstery Cleanser will. Crafted with a high-nap formula, Carpet & Upholstery Cleanser penetrates fabric at a deep level to pull out and eliminate contaminants embedded within. You'll have confidence in your carpet knowing there's no gunk lurking underneath.

Eliminate Odor At The Source

You could have a forest full of pine trees hanging from your rearview mirror and still smell the milk your kid spilled last week. The fact is, air fresheners don't eliminate odors – they just mask them. If you really want that stink gone, you'll need to root it out at the source with Carpet & Upholstery Cleanser. Packed with industry-leading odor eliminators, Carpet & Upholstery Cleanser kills the bacteria responsible for foul smells, leaving your car free of putrid scents.

Leaves A Clean Scent

The problem with most odor eliminators is that they only do just that – eliminate the odor. Once the odor is gone, you're left with a slightly-off, less-than-pleasant smell. Carpet & Upholstery Cleanser sets itself apart from these mere odor eliminators by adding a fresh, clean scent that makes sitting in your vehicle an absolute treat.

How Does It Work?

Carpet & Upholstery Cleanser works by penetrating your fabric's surface using the scrubbing action prescribed in the instructions. As the product dries over a period of 24 hours, it works its way through the fabric, eliminating contaminants and odor-causing bacteria.

DIRECTIONS
Application Instructions

1. Shake well. Spray Carpet & Upholstery Cleanser on carpet or upholstered area.
2. Scrub with a brush or cloth to penetrate.
3. Allow up to 24 hours for product to dry.
4. If odor is still present after 24 hour period, repeat steps 1-3.


Additional Tips

Do not spray on clear plastic or instrument panels.
For your safety, protective glasses are recommended while using this product.
For maximum results, protect with Dr. Beasley's Carpet & Uphostery Protection after cleansing and neutralizing.
Before applying, test a small amount in an inconspicuous place to check compatibility with surface.