3D LVP Conditioner 128oz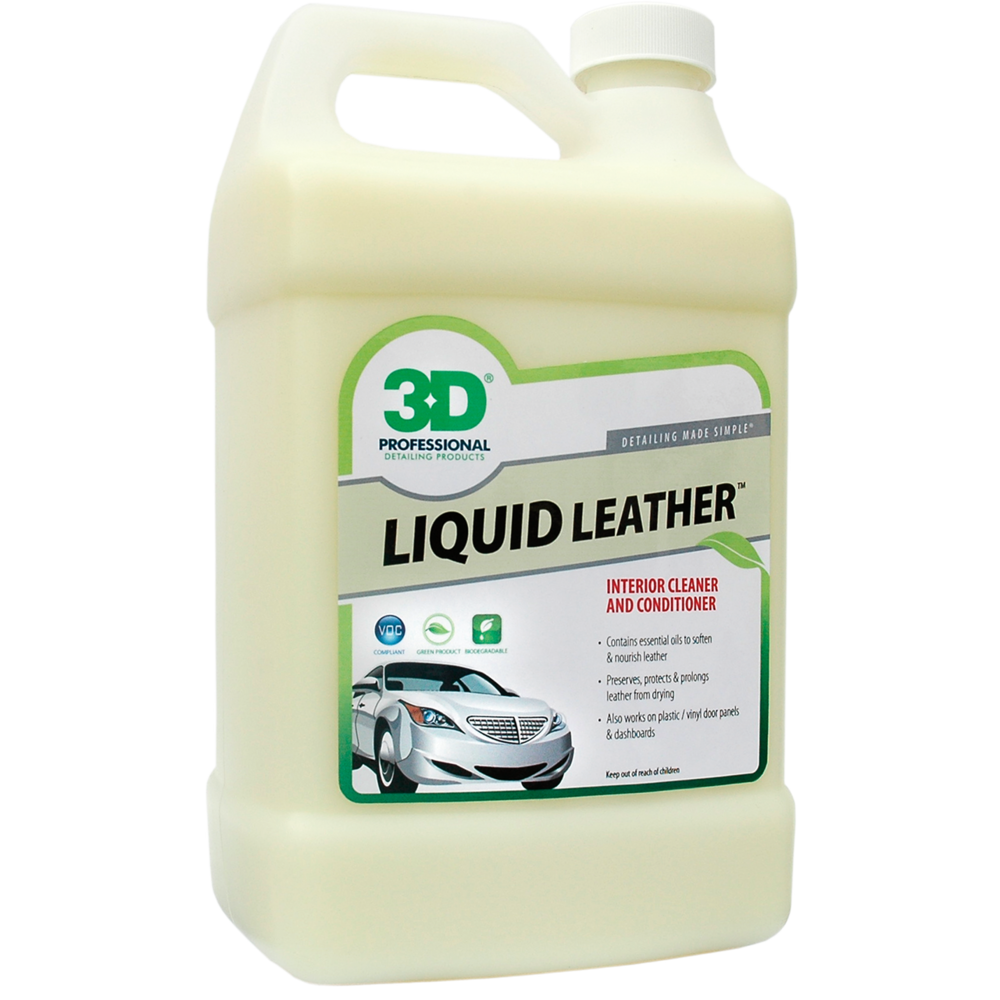 3D LVP Conditioner 128oz
Leather Cleaner and Conditioner all in one.
Cleans, conditions, and beautifies leather in one step, Now with Mink-Oil to give an extra softness to leather, Gentle on leather, No greasy residue.
Liquid Leather is the fastest way to clean, protect and beautify the leather interior of your vehicle in one simple step. This gentle leather cleaner not only gets your leather looking like new again, but it supplies the leather with special UV inhibiting polymers designed to prevent premature aging and cracking. With our latest advanced formulation including pH-Balancing agents, you can be sure that this protectant matches the pH Balance of your vehicle's fine leather. This will keep your leather hydrated preventing leather from drying, thus saving expensive leather restorations down the road. Now fortified with mink oil and neat's foot oil which will enrich your leather just like many of the high quality tanneries have been using all around the world for decades.

This All In One leather cleaner/protector is perfect for leather seats, leather dash boards, and leather arm rests as it gently cleans deep into the pores of the leather's finish removing harmful dirt & soiling. With every use, you'll restore and retain the natural non-greasy suppleness of your leather.
Liquid Leather is great for most types of automotive leather and should be used to maintain its perfect appearance from day one. This product will prevent premature cracking in high wear regions such as side bolsters and seat bottoms and will reduce abrasion to the leather's external coating each time you enter and exit your vehicle. Liquid Leather's water-based properties dry to the touch and will not leave any greasy or sticky residue behind that will promote re-soiling. Use as often as you would like, there are no detrimental ingredients in this product that will harm any part of your leather. In fact, with regular use you will build up a barrier to block out UV degradation and blue jean dye transfer all while offering water repellency too.

Liquid Leather is also great for cleaning and protecting synthetic vinyl seats and plastic trim too such as dash boards and door panels. Like leather, these items are susceptible to ageing and premature cracking so using a product like Liquid Leather will work great on these items too. It will not cause any slipperiness to your interior components and will leave the surface looking clean and naturally vitalized. 
Directions Liquid Leather can be used on all kind of leather except suede, nubuck and certain aniline finishes. Test in an inconspicuous area prior to treating entire panel.

Apply a small amount to a clean, damp cloth or applicator. Avoid spraying directly onto surface. Using a circular motion, massage and apply the product to leather or vinyl until the surface is fully covered. Buff off excess with a clean dry microfiber towel. Repeat as necessary.

NOTE: If leather is very soiled, make sure to pre-clean the surface with 3D'€™s Leather, Vinyl & Plastic Cleaner or 3D's All Purpose Cleaner diluted 1:10 parts water.