303 Graphene Detailer 16oz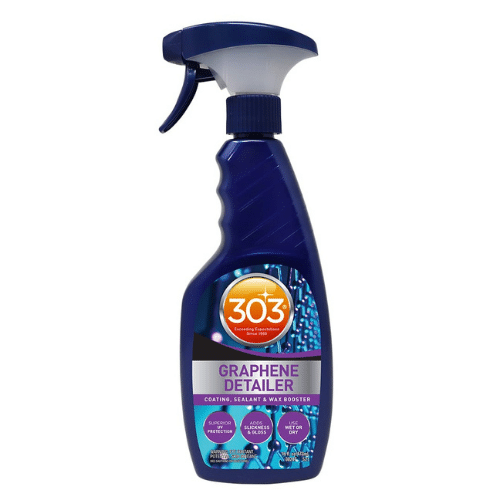 303 Graphene Detailer is a graphene-based auto detailing product designed to improve existing coatings. Paired with 303 Graphene Nano Spray Coating, you can renew active protection while enhancing shine and gloss for a professional finish.
The dynamic formula makes it functional on both dry and wet surfaces, so you can use it as a drying aid immediately following a wash. More importantly, the versatility of 303 Graphene Detailer makes it safe to use on paint, chrome, glass, plastic trim, and wheels.
If you want to level up your approach to automotive care, use this forward-thinking detailing spray as a topper, or for quick clean-ups of dust and fingerprints in between washes.
Directions:
Shake bottle well. Can be used on a wet or dry surface. Spray product onto a clean dry microfiber towel, or directly on the surface, and wipe one section at a time. Buff off any residue with a separate, clean, microfiber towel.
Enhances slickness and gloss
Use as a topper to reinforce protection
Can be applied to wet surfaces as a drying agent
Safe and effective on paint, chrome, glass, plastic, and wheels
Provides superior UV protection
Perfect to use in between car washes
Lasts up to 90 days