Blackfire Wet Diamond Rinseless Wash 16oz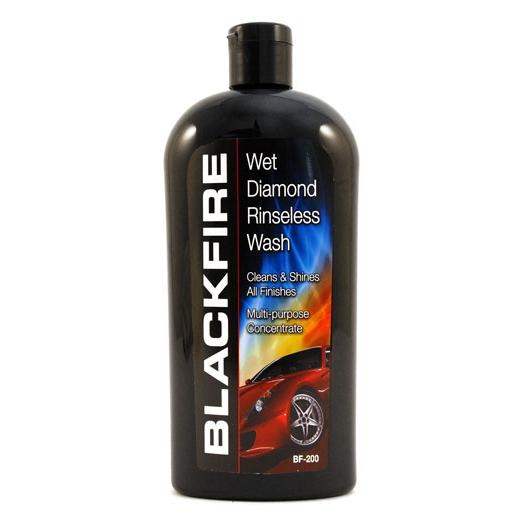 Blackfire Wet Diamond Rinseless Wash 16oz
BLACKFIRE Wet Diamond Rinseless Wash washes fuses proprietary Wet Diamond polymers in a rinseless wash to give you the best of both worlds! The Wet Diamond tri-polymer system is extremely slick, allowing dirt and grime to be washed away with out scratching. It also coats the paint in a layer of BLACKFIRE Wet Diamond polymers leaving your paint, trim, and glass slick while creating the whiplash-inducing shine!
Blackfire Wet Diamond Rinseless Wash does not require rinsing because it is not soapy. It contains lubricants and polymers that loosen dirt and oils on the vehicle so you can wipe them away with a wash mitt or sponge. These lubricants prevent grit from scratching the paint.
Directions:
Rinseless Wash - Dilute 1 ounce in 2 gallons of water. Soak a wash mitt or sponge in the solution and wash the vehicle one section at a time. Wash one panel at a time, making sure to flood the surface with an adequate amount of solution. Wash in gentle straight-line motions. Dry using two towels. Lightly wipe the first towel over the panel then follow with the second towel to ensure a high gloss, streak-free shine.
Water conditioner - Add 1-2 ounces to 3-5 gallons of wash water for additional lubrication. Wash and rinse as usual.
Clay and buffing pad lubricant - Mix 2 ounces with 32 ounces of water in a clean spray bottle. Mist pads prior to use. Mist vehicle surfaces prior to using detailing clay.
Quick detailer - Add 3 ounces to 32 ounces of water in a clean spray bottle. Mist and wipe paint with a soft microfiber towel.